On the afternoon of May 17, 2023, School of Nursing \held the International Nursing Day program. The program has the participation of strategic partners such as Becamex International Hospital, My Phuoc General Hospital; Board of Directors, leaders of units, departments and all lecturers and students of school of Nursing.
The International Nurses Day was organized in response to the message "Nursing us – Our future" issued by the World Council of Nursing (ICN) on the occasion of International Nurses Day (December 12). 5). At the program, all guests, lecturers and students of School of Nursing performed a candlelight ceremony in memory of Mrs. Florence Nightingale – the woman who founded the nursing industry in the world, to show the continuity and building build professional pride and illuminate the future of nurses, continue to nurture the love of the profession and the enthusiastic spirit of those who dedicate themselves to health care in Vietnam in particular and the world in general.
Speaking at the opening of the program, Dr. Nguyen Thanh Trong –  EIU Vice President emphasized the role of nursing in society. At the same time, Dr. Nguyen Thanh Trong expressed his wish that lecturers  and students from school of nursing always maintain their passion, enthusiasm and love for the nursing profession. The school will create all conditions, especially focusing on connecting activities with prestigious hospitals so that lecturers and students can promote the tradition of learning and research in order to improve their knowledge and skills, contribute to ensure health care for the community.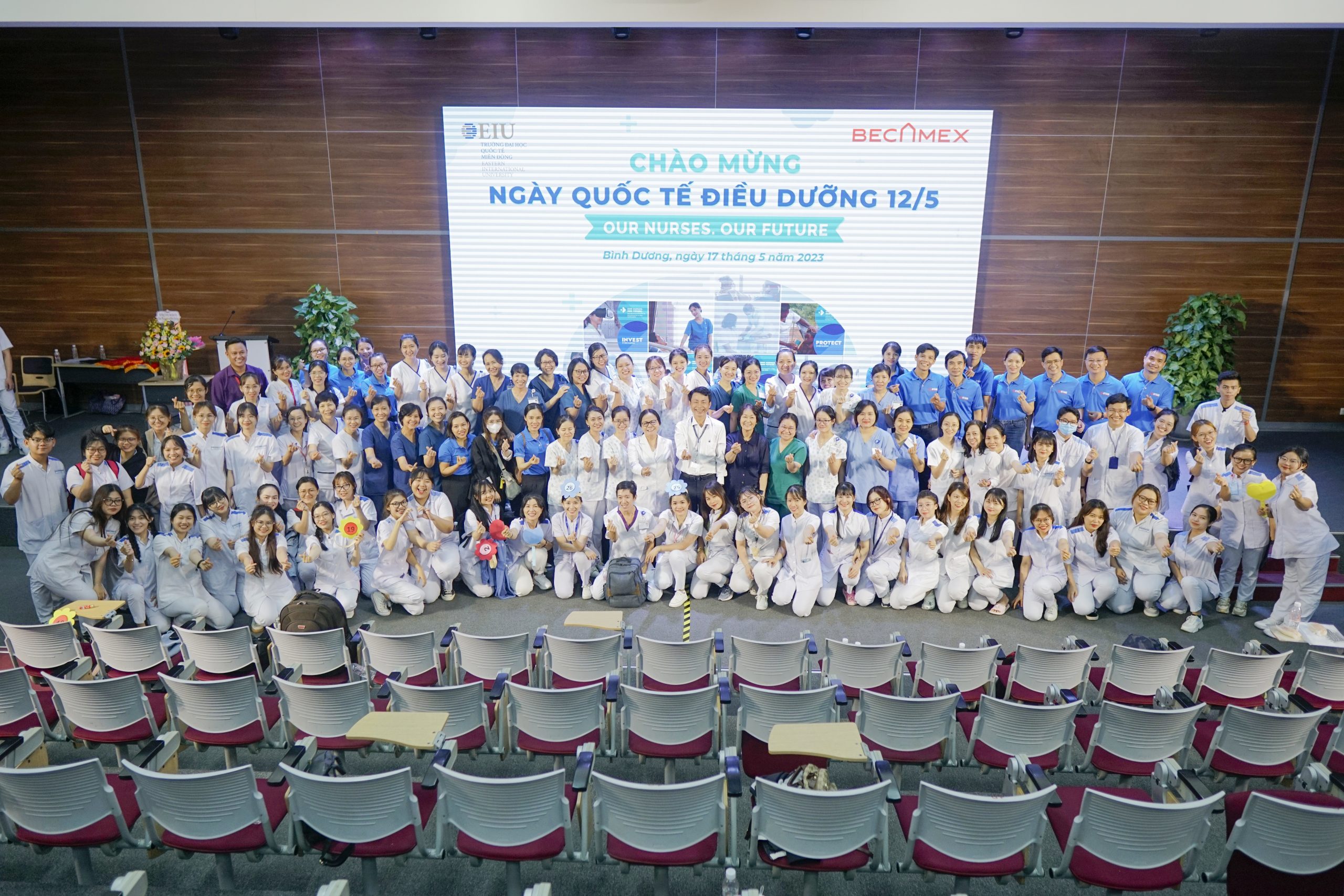 On this occasion, the School of Nursing also organized a knowledge playground for the faculty's students with two contests: Ringing the golden bell and designing posters. Participating in the "Ring the Golden Bell" competition, the teams learned about the history of nursing, general information about EIU, and social knowledge (Covid-19, current affairs,…). In addition, representatives of the competition teams also presented pre-designed posters, revolving around the current state of the nursing industry in Vietnam and the world, the investment of human resources and the investment in human resources. equipment for the development of the nursing industry, as well as the values that nursing brings to the community and society in order to make the nursing profession from invisible to priceless.
The Nursing International Day is an occasion to recognize and honor the professional values and valuable contributions of nurses in the field of human health care. At the same time, this is also a bridge between EIU and hospitals that are strategic partners, creating conditions for students to exchange, learn and acquire more knowledge about their profession from experts in the field. branch. Since then, you will be energized, enthusiastic, understand the importance and mission of becoming a qualified, practicing and enthusiastic nurse on the path of professional development. future service to the community.
Some photo at the celebration