Eastern International University (EIU) and Thailand's Burapha University signed a memorandum of understanding (MoU) on March 27, 2023 to further strengthen cooperation.
Representing the Thai university at the event were Assoc. Prof. Dr. Sumon Sakonchai, Burapha University Council's Chairman, Assoc. Prof. Dr. Watcharin Gasaluck, President of Burapha University, and other leaders from Burapha.
They were welcomed by Mr. Nguyen Tan Loi, Chairman of the EIU Council, EIU President Dr. Ngo Minh Duc, and heads of units under EIU.
The two universities kicked off their cooperation in 2009, and have implemented specific activities since then, bringing many real values to lecturers, students and communities. The 2023 MoU signing, built on the foundation, aims to continue to promote their long-term cooperation in many fields, especially health science, to create more values in training and scientific research activities.
Speaking at the program, Assoc. Prof. Dr. Sumon Sakonchai, Burapha University Council's Chairman, highly appreciated EIU's role in training and providing high-quality human resources for socio-economic development, especially the values that EIU has been creating to serve the community.
He also expressed his hope that the new MoU will be a milestone marking a new development stage in the cooperation between the two universities. Based on this, both sides will make the most of their resources to jointly support, share and research to create many positive values for the development of both universities as well as communities and the entire society.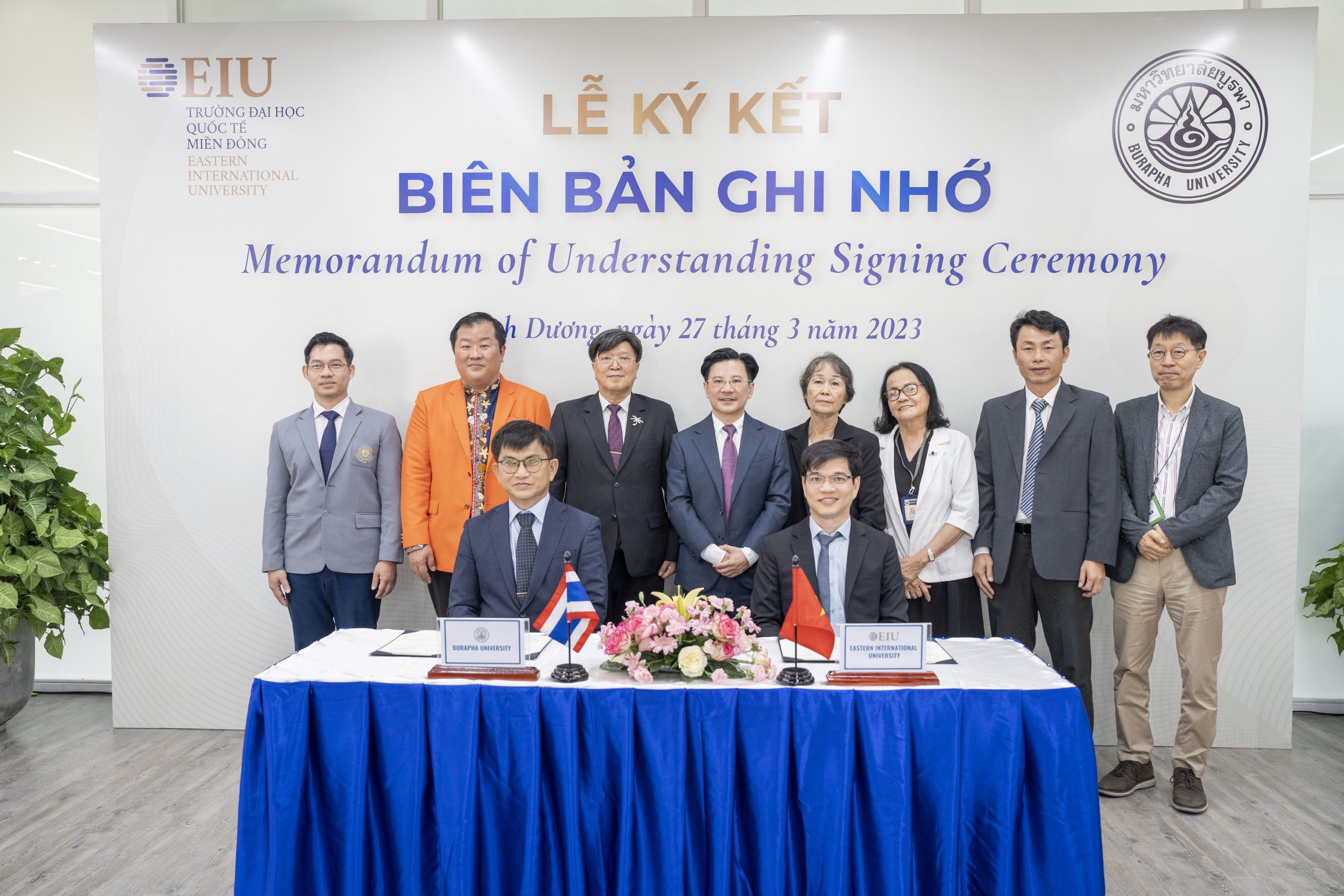 Representatives of Burapha University, Thailand and Eastern International University took photos at the signing ceremony
Mr. Nguyen Tan Loi, EIU Council Chairman, expressed his wish that the MoU re-signing would open up a promising future in the process of development cooperation, training and scientific research activities; promote the sharing of experiences in technology transfer that the two universities are interested in, supply and ensure trained human resources to keep up with the trends in the new era.
EIU, in order to carry out the task of training high-quality human resources, creating many applied scientific research projects and practical technology transfer projects for socio-economic development, has always been proactive in connecting and cooperating with reputable partners, especially partners with long history of development and training and research experiences, those partners sharing the fields of interest with EIU, including health sciences.
Through these cooperative activities, EIU can implement many specific activities such as providing internship and internship programs; faculty and student exchange programs; research cooperation that contributes to improving training programs, providing great opportunities for rapid access to international knowledge sources, in order to improve the quality of human resources for the future.
Some pictures at the signing ceremony