STUDY PROGRAMS
Students with good professional knowledge and skills
EIU offers dual-objective study programs: developing both professional knowledge and practical skills at the same time, meeting students' combined need of study and practice and the society's demand for high-quality human resources in the new era.
EIU's curricula are designed with a student-centred approach. Aside from providing theoretical knowledge, the curriculum encourages student activities such as discussions, expressing opinion, critical thinking, presentation and research skills to help sharpen and unlock the students' full potential.
Additionally, the program involves projects with businesses which foster thinking ability while solving real-life problems businesses face and developing students' work competency early on.
EIU has also invested significantly in infrastructure, with modern, comfortable classrooms and a system of practice rooms and laboratories that are fully equipped with state-of-the-art equipment. Thanks to them, students can get acquainted with the real working environment, apply right away what they study. This ensures the best learning experience for students. With the foundation, students can quickly adapt to the job requirements from the fast changing industrial revolution 4.0, sharpening their competitive edge in global job markets.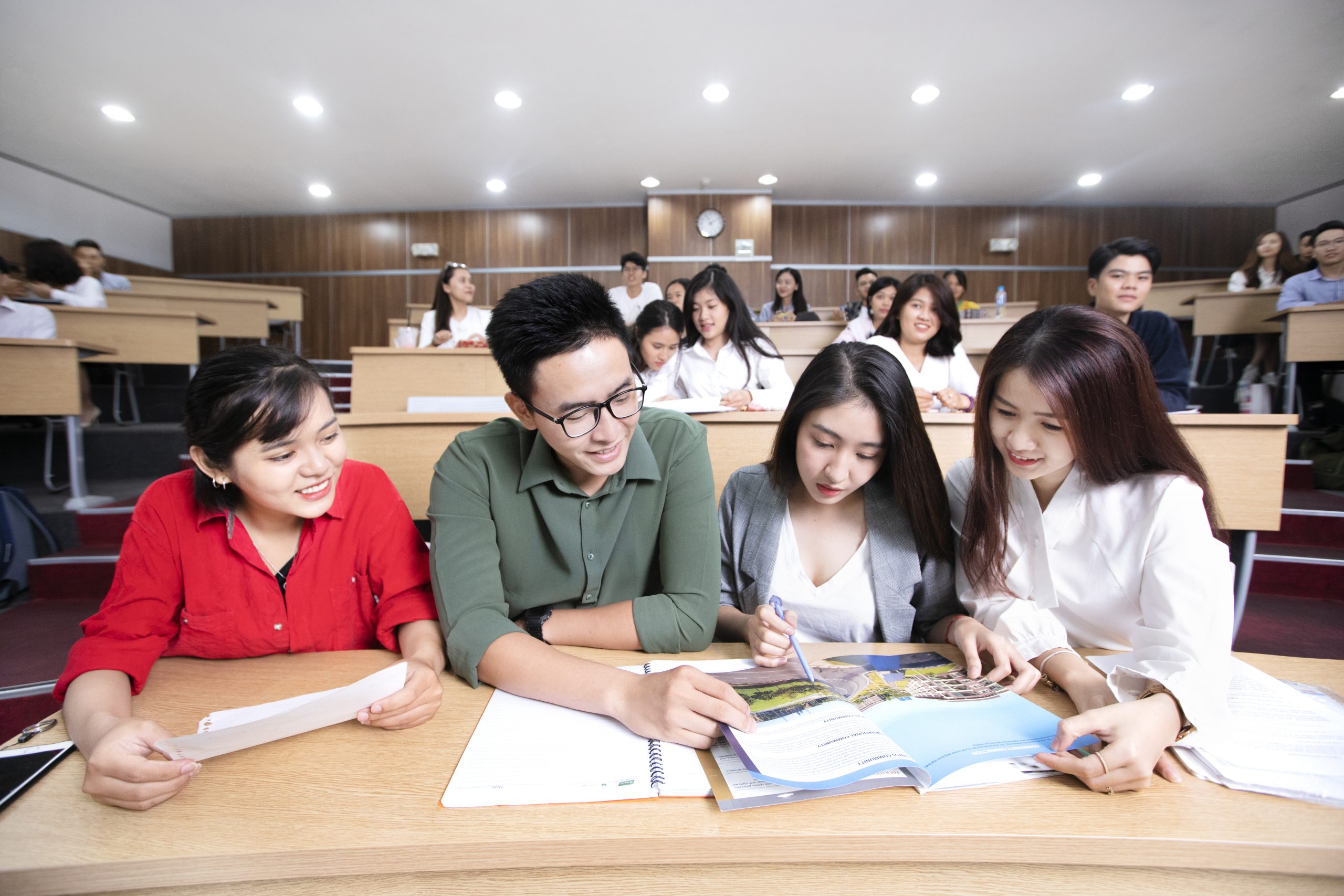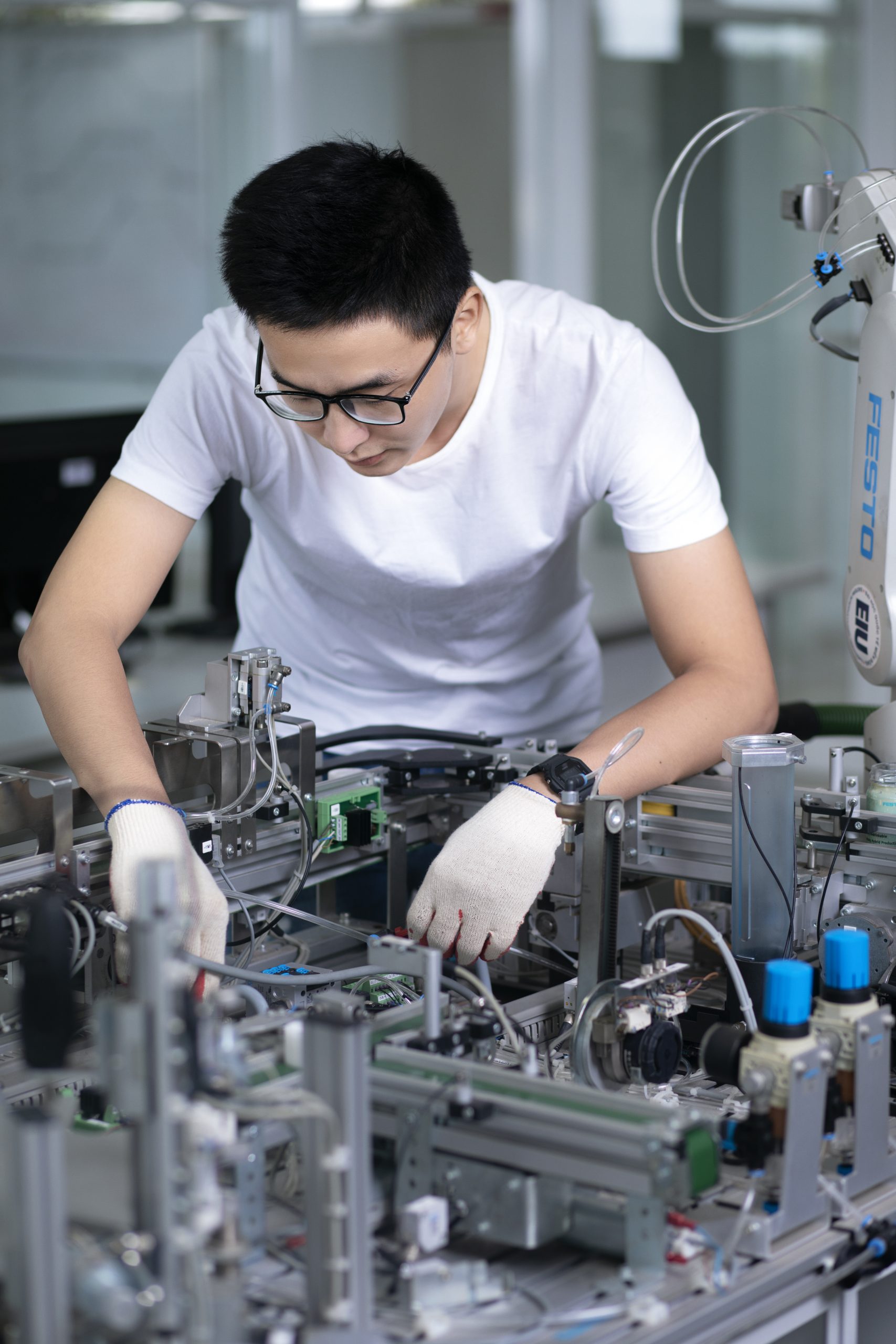 Students' proficiency in English
In today's era of opening up and globalization, foreign languages, especially English, are one of the most significant qualifications for students to integrate with the world. At EIU, 100% of students achieve at least IELTS 6.0 in English before graduation. They study English at the university's Foreign Language Center, with programs designed to help them develop their English skills through well-researched teaching methods appropriate for each level of learners. The lecturers are 100% native speakers who are always ready to support students throughout the learning process.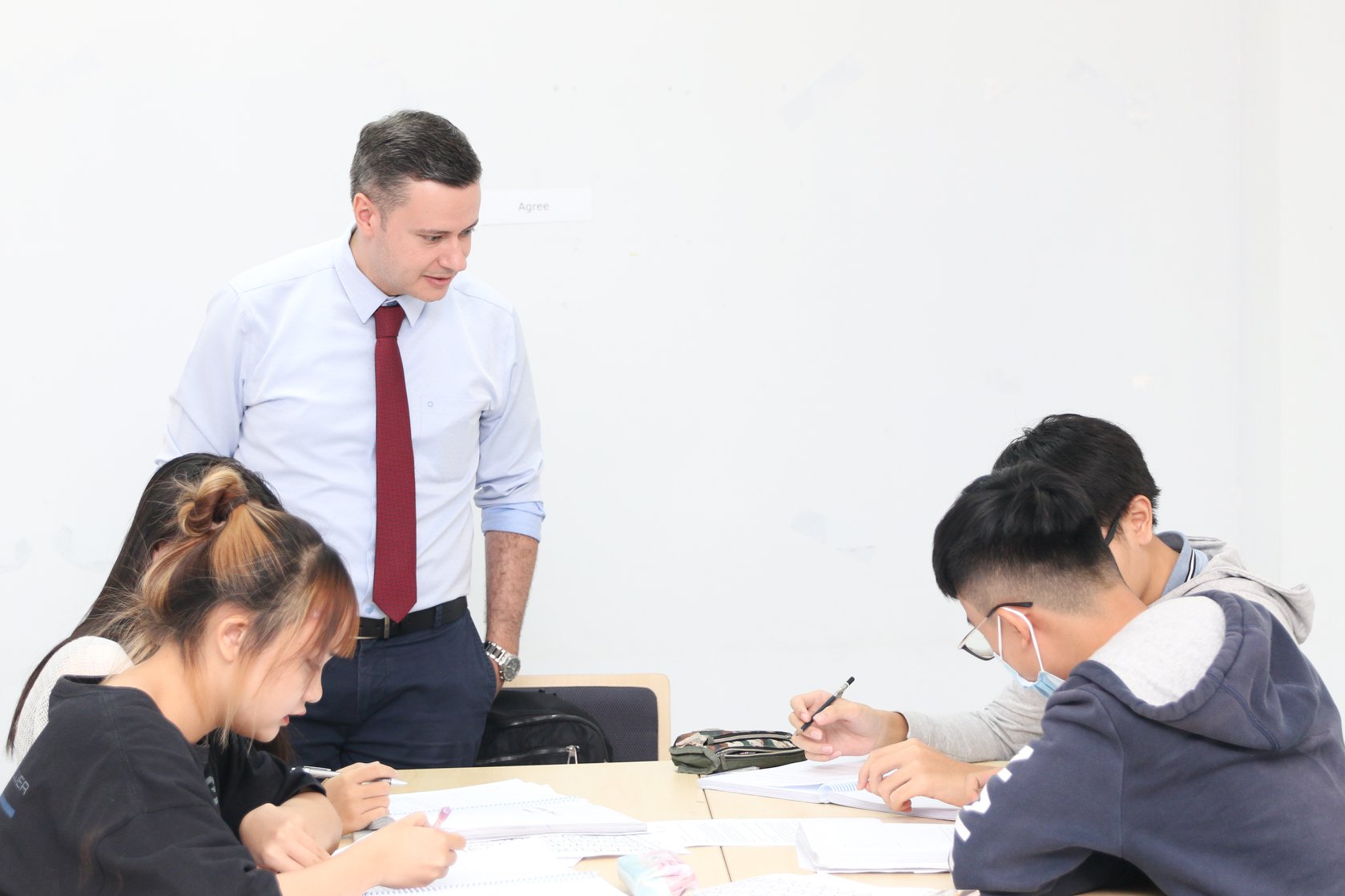 Pro-active, learner-centered teaching methods
With active, student-centered teaching approaches, students have many opportunities to practice presentation, decision-making, leadership, and critical thinking skills. They can also attend many seminars with business leaders and leading professors, join internship programs of different types at large domestic and foreign companies. In addition, academic advisors will be the ones who connect and inspire students in study, in student activities, clubs and student groups.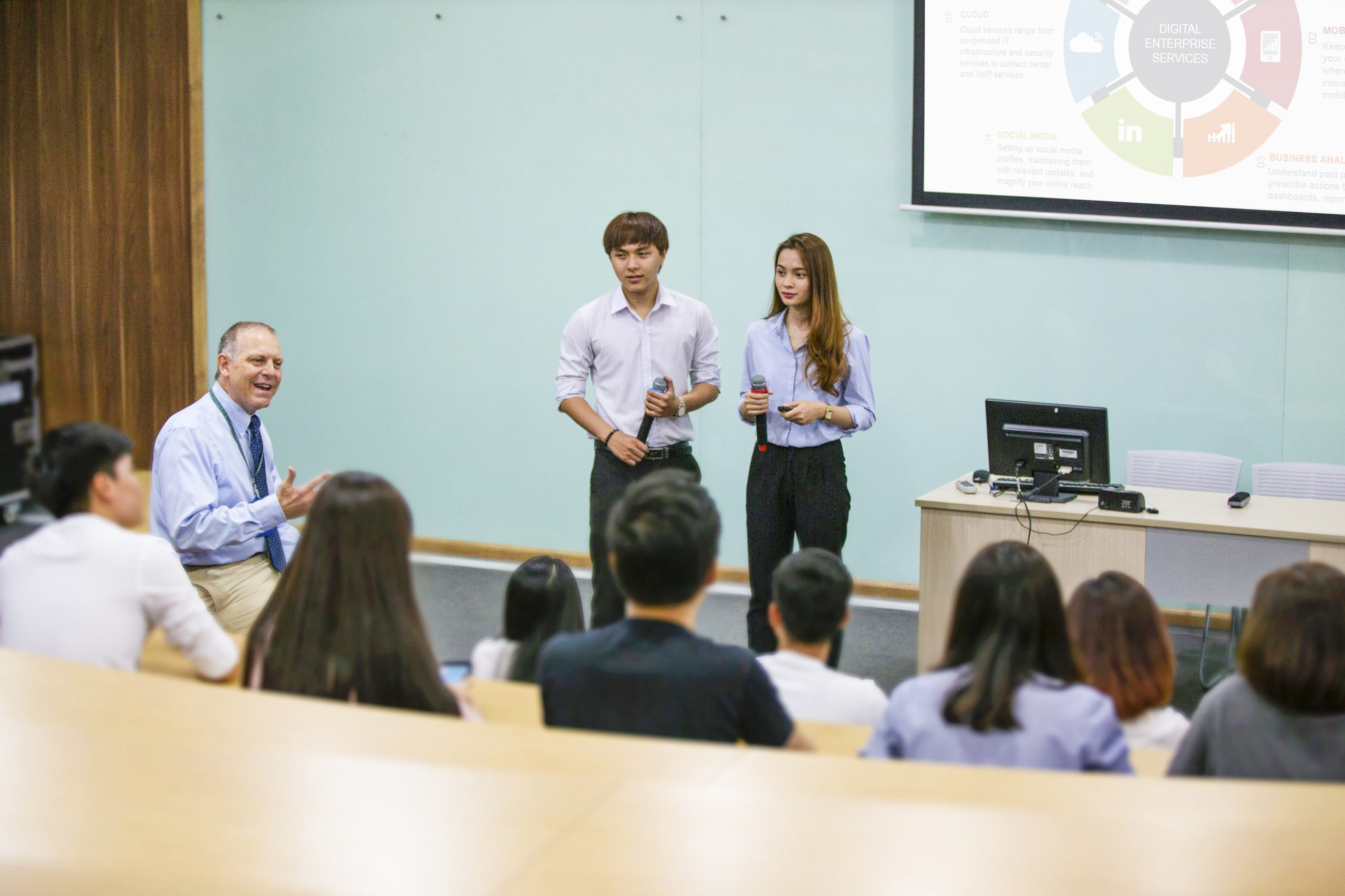 Modern, constantly updated curriculum
The programs of the Becamex Business School is consulted, externally evaluated, and critically assessed by leading professors of Cass Business School – City University in the UK, Portland State University in the USA, and California State Polytechnic University, the USA.
The curriculum at the School of Computing and Information Technology complies with the accreditation standards of the Ministry of Education and Training and the ASEAN University Network.
The curriculum of the Faculty of Engineering is designed in line with the standards of ABET, a US accrediting agency, guidelines of IEEE and ACM – US professional organizations, the accreditation standards of the Vietnamese Ministry of Education and Training and the ASEAN University Network (AUN).
Current majors of the Faculty of Information Technology are designed based on typical academic applications and training programs widely used at US universities, in order to help students be able to work for domestic and international companies, and for further study in Vietnam or abroad. This faculty  ensures that its academics and academic programs are compliant with the requirements of ABET (the Accreditation Board for Engineering and Technology in America), Institute of Electrical and Electronics Engineering (IEEE), and Association for Computing (ACM). The training programs at this faculty also comply with the accreditation standards of the Ministry of Education and Training and the ASEAN University Network.
The programs of the School of Nursing are reviewed by experienced nursing instructors from the University of Medicine and Pharmacy – Ho Chi Minh City; and consulted by Dr. Turner, University of Minnesota (USA), and a member of the American Nurses Association. Students can get practice in foundation courses at EIU labs, pre-clinical practice at hospital simulation labs (skill-lab) at EIU, community practice at medical centers in Binh Duong, and clinical practice in major hospitals in Binh Duong and Ho Chi Minh City.
Teaching staff: Highly qualified, dedicated and experienced
EIU is a place for talented, dedicated, and experienced lecturers. In addition to extensive knowledge, they can inspire and direct students to higher and sustainable values. They are also friends and companions to help students experience a meaningful and memorable learning journey.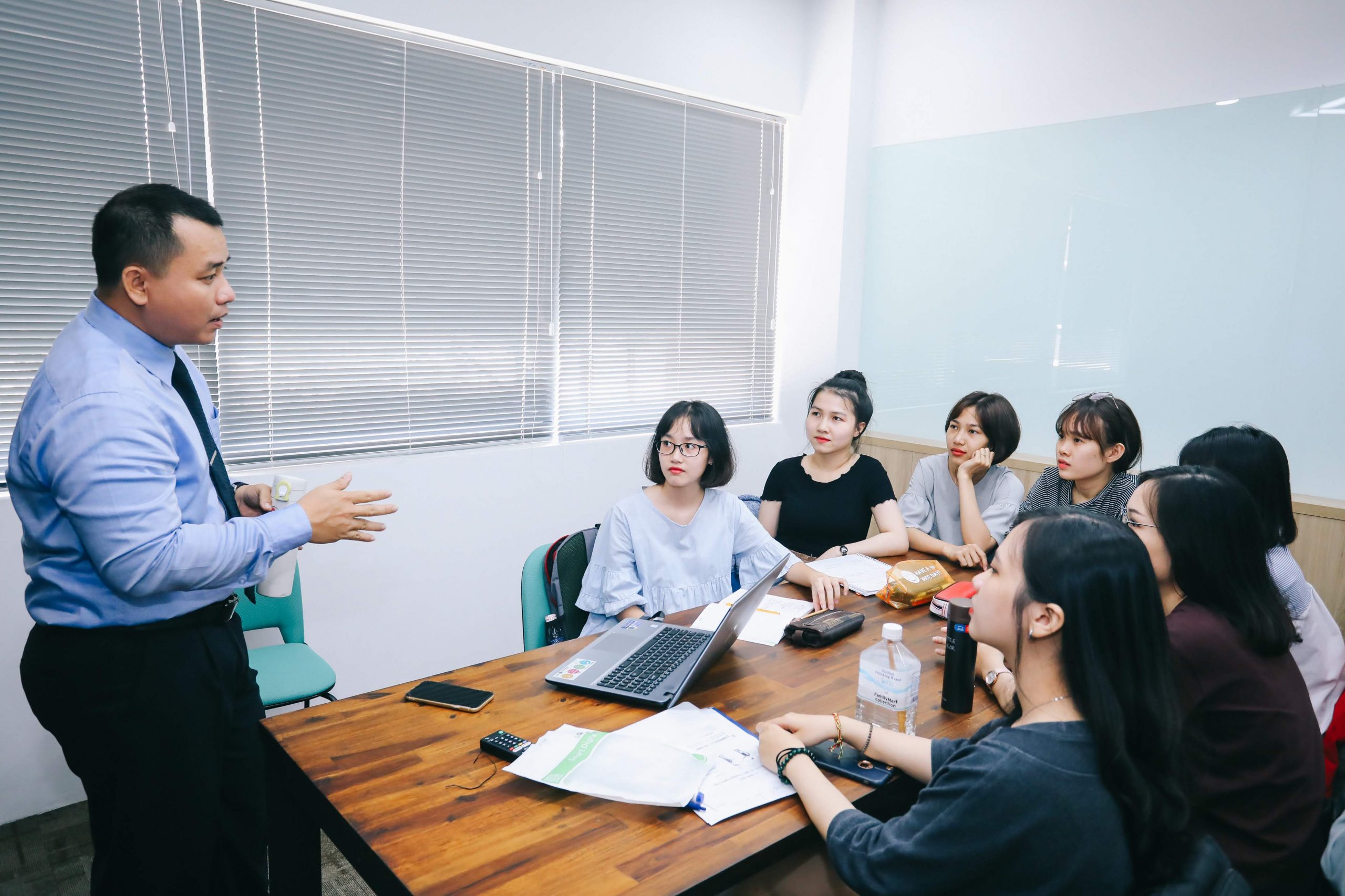 Acquiring knowledge from experiential learning
Not limiting themselves within the classroom, the students can experience a modern and advanced learning environment for further career development. Seminars are held frequently, internship opportunities are always present, all will ensure students to get access the working environment from an early stage.
Community-based programs such as Green Summer Volunteer Campaign, exchanges programs with Vietnamese and foreign students, and the like give students many opportunities for practical experience in order for them to appreciate different values ​​in life.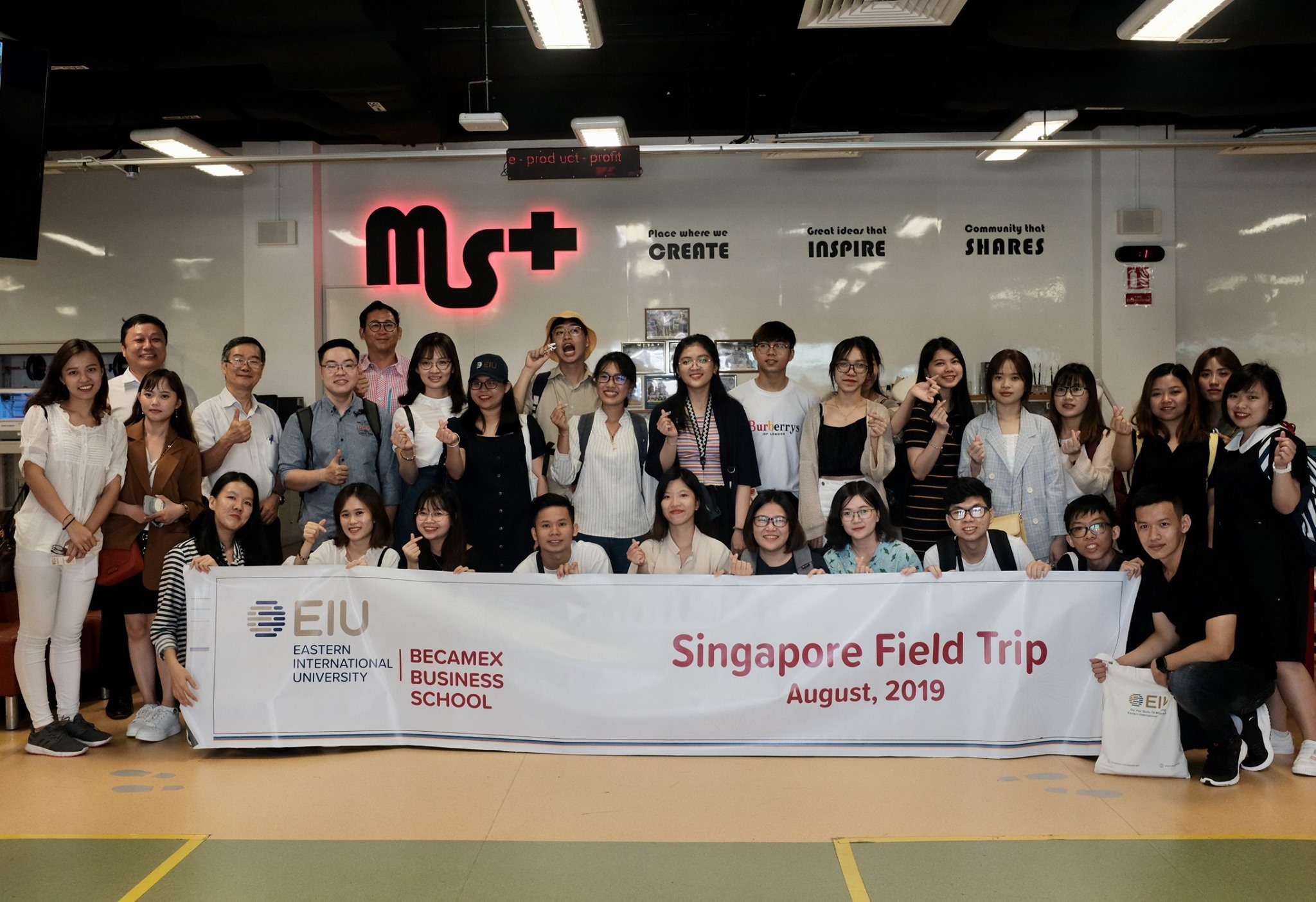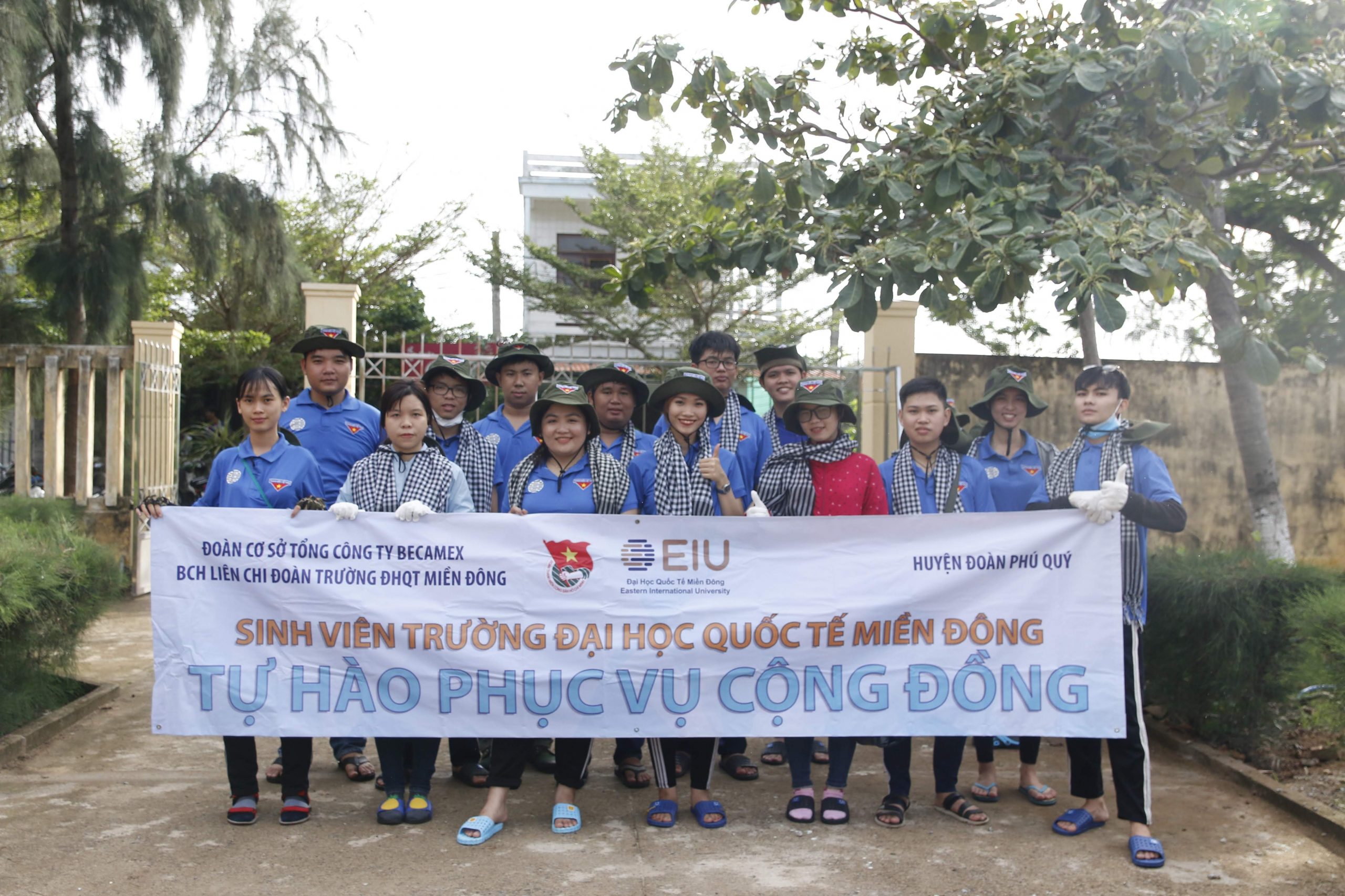 Developing comprehensive soft skill for students
EIU's education approach aims at students' comprehensive development. Our students not only can make good use of the knowledge they learned but are also trained to become good citizens, who live and work meaningfully and responsibly. EIU is an environment where students can fully explore their abilities and apply them to many areas of life. Critical thinking, innovative and creative thinking and the ability to communicate, negotiate, collaborate and other competencies are all offered at EIU.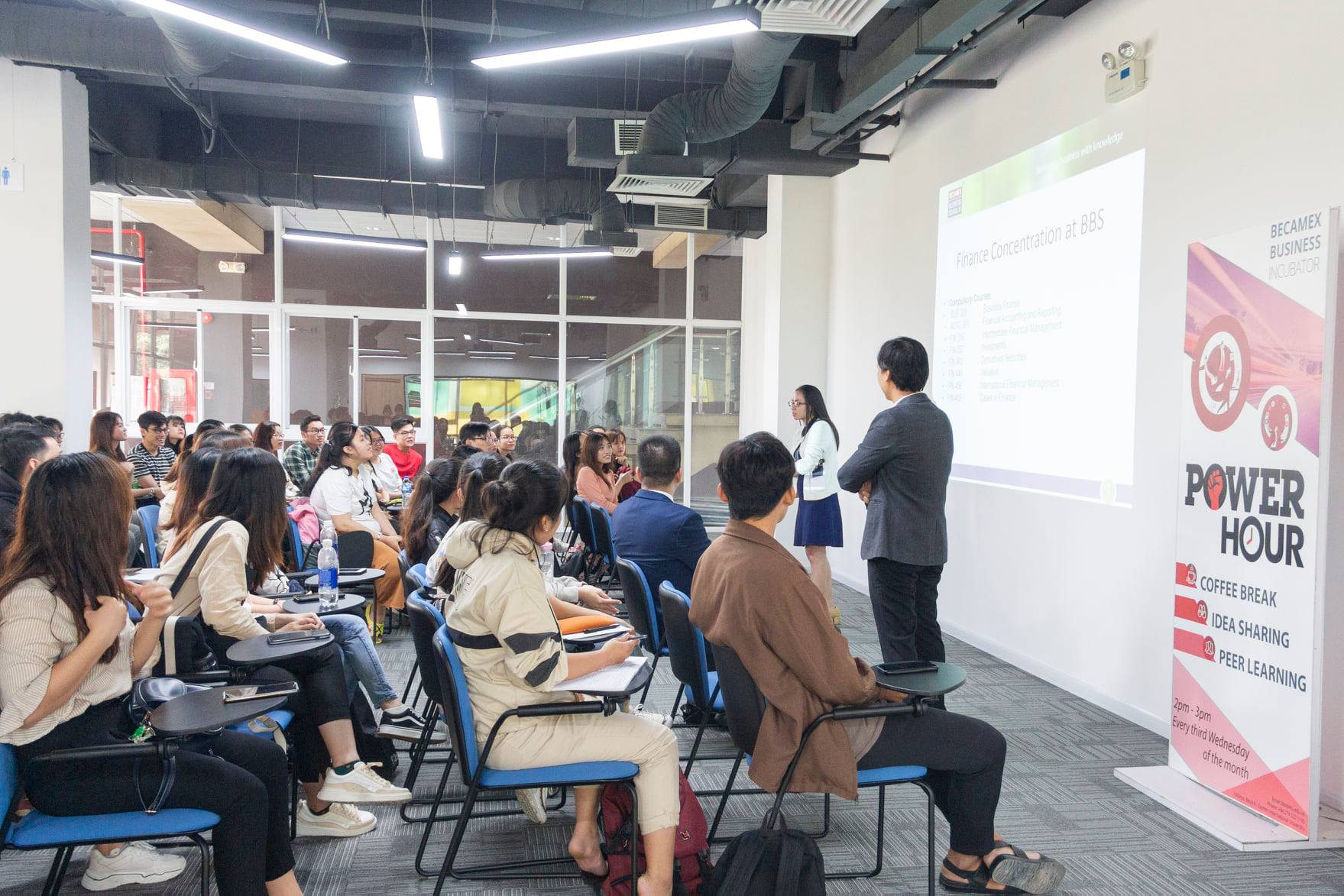 Wide business networks
As a corporate-founded university, EIU has close connections with the business community to serve training, research and development activities. Connecting activities include internship, project implementation activities with enterprises, scholarships sponsorship from enterprises; seminars and meetings to share experiences, and festivals. These activities make great contributions to knowledge acquisition and experience accumulation, bringing many benefits to students during their university time until graduation.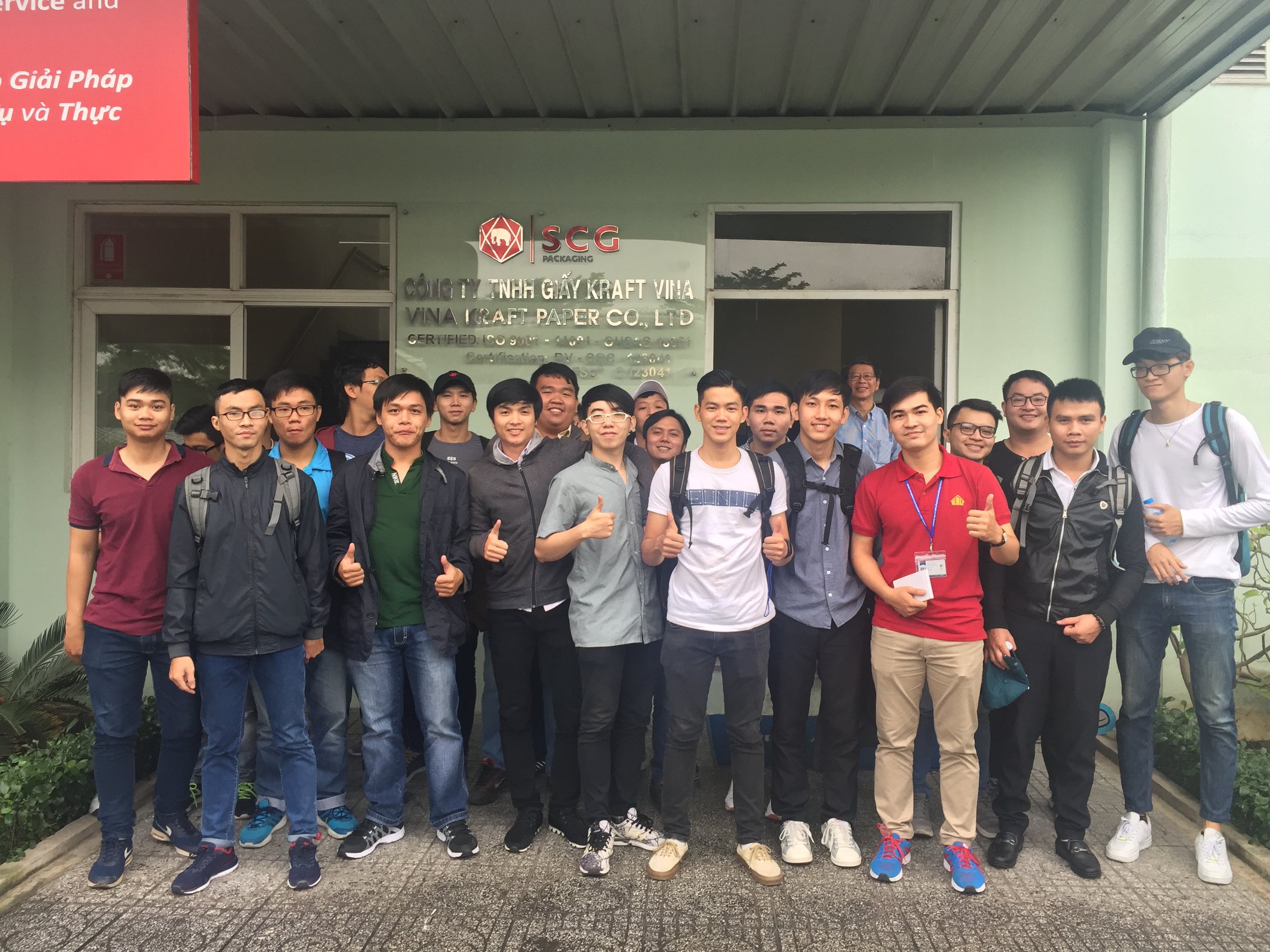 High-quality human resources for labor market
With the advantage of being a university established by Becamex IDC Corporation, we clearly understand the labor market's demand for human resources. Thanks to this, EIU has provided the market with generations of students who can meet market requirements. In addition to good professional skills, EIU students are fluent in English and achieve other soft skills such as problem solving, negotiation, consulting… These advantages enable EIU students to be distinctive for competing in the challenging labor market.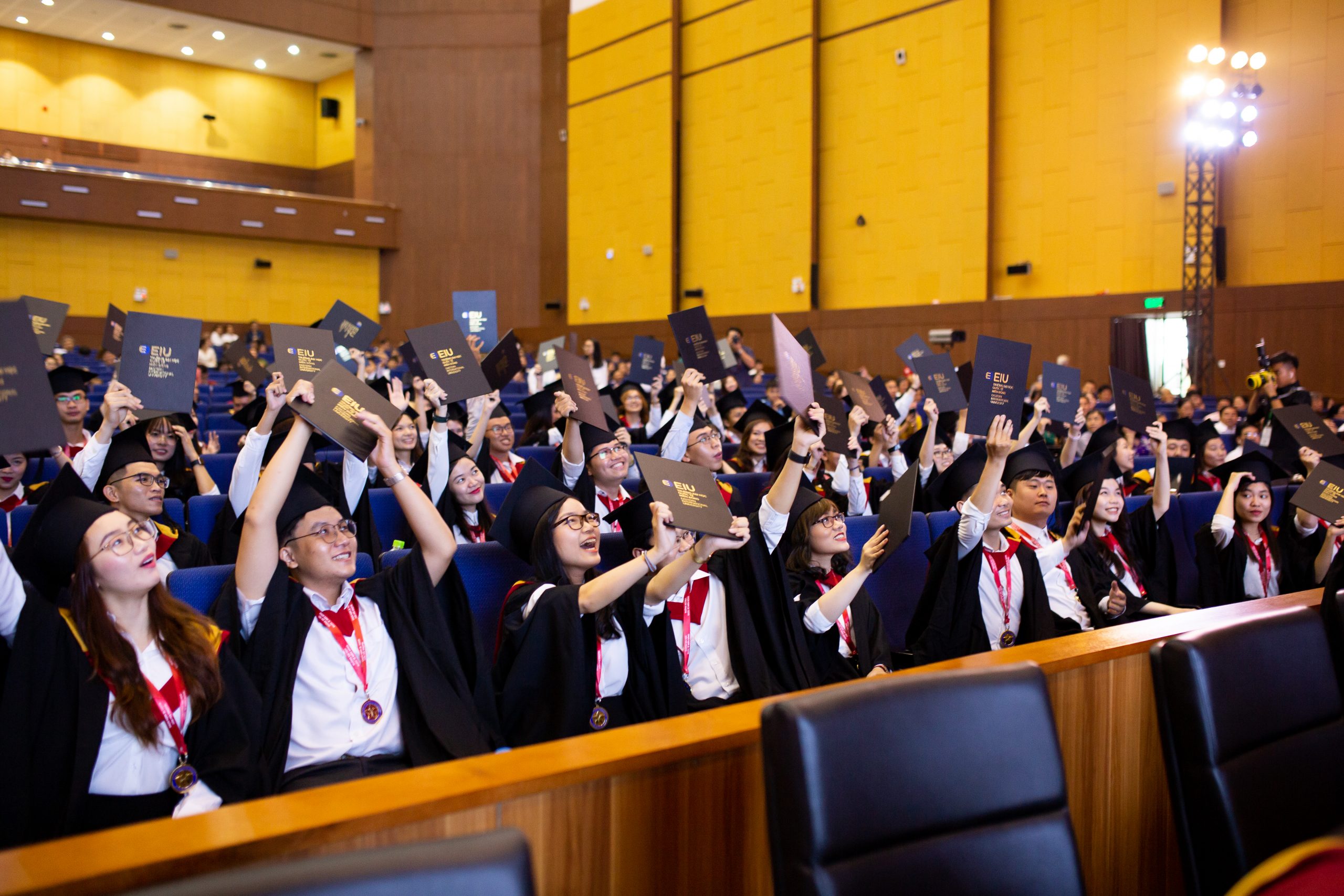 Student life
Taking care of students' health and mental wellbeing
We always try to fully take care of students' health so that they can study for a long time. EIU has built a network of affiliated medical systems or partnered hospitals. Students are also cared for in physical and mental health through a system of policies and welfare benefits.
When having health problems, you can get immediate medical care or treatments at the University's healthcare units. In addition, with the advantage of training in nursing, we have a team of experienced nursing instructors available for health care emergencies and counselling students on site.
In addition to mapping out a clear study path and answering students' questions, Academic Advisors accompanies students throughout their study at the University. Students are supported, consulted, and are able to share the problems they are facing so that they can make the correct decisions to continue focusing on their studies.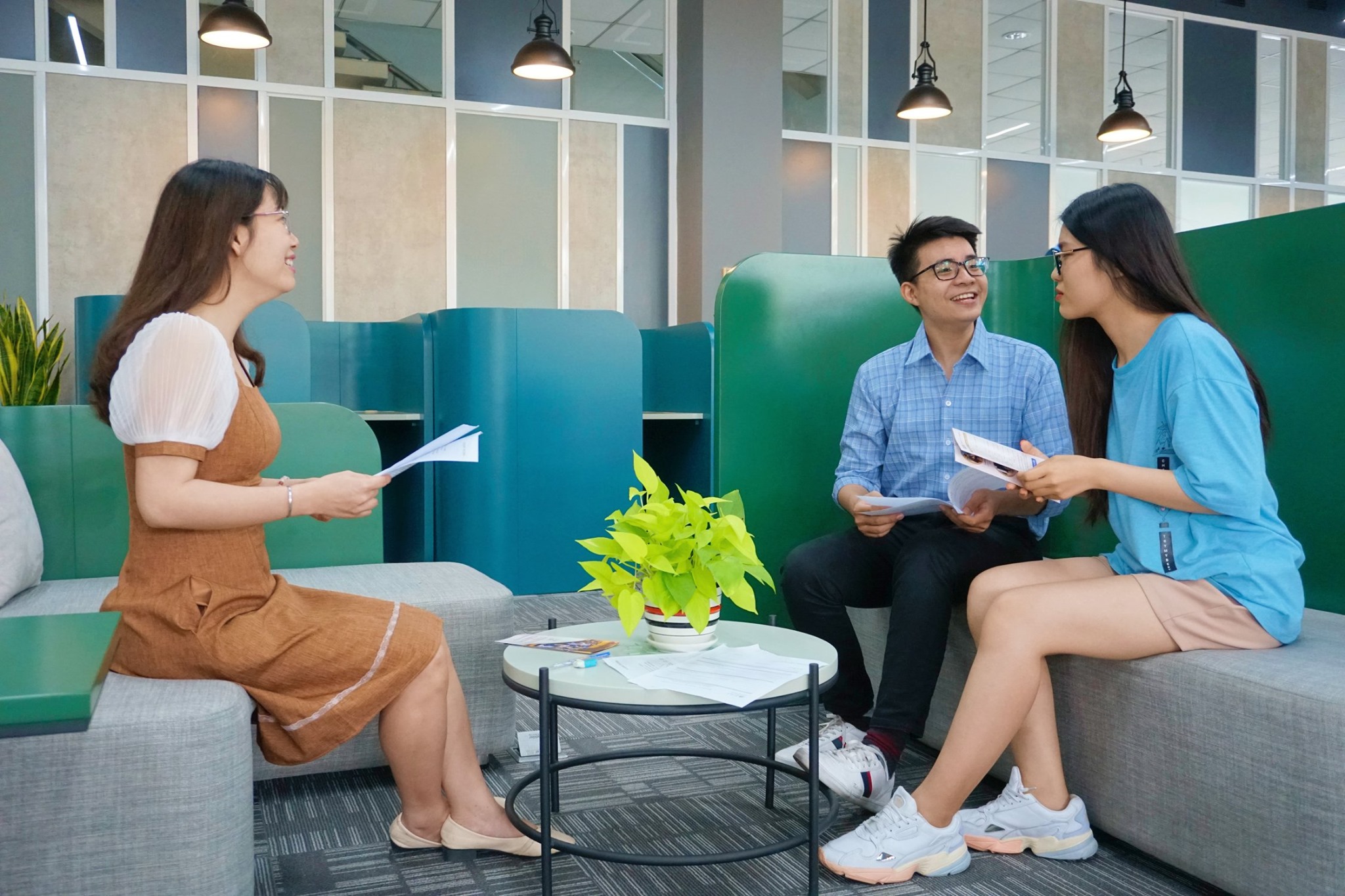 Modern and advanced learning environment
Campus
With nearly 50 hectares of total area and covered by more than 2,000 trees, EIU offers a cool and relaxing study and working environment.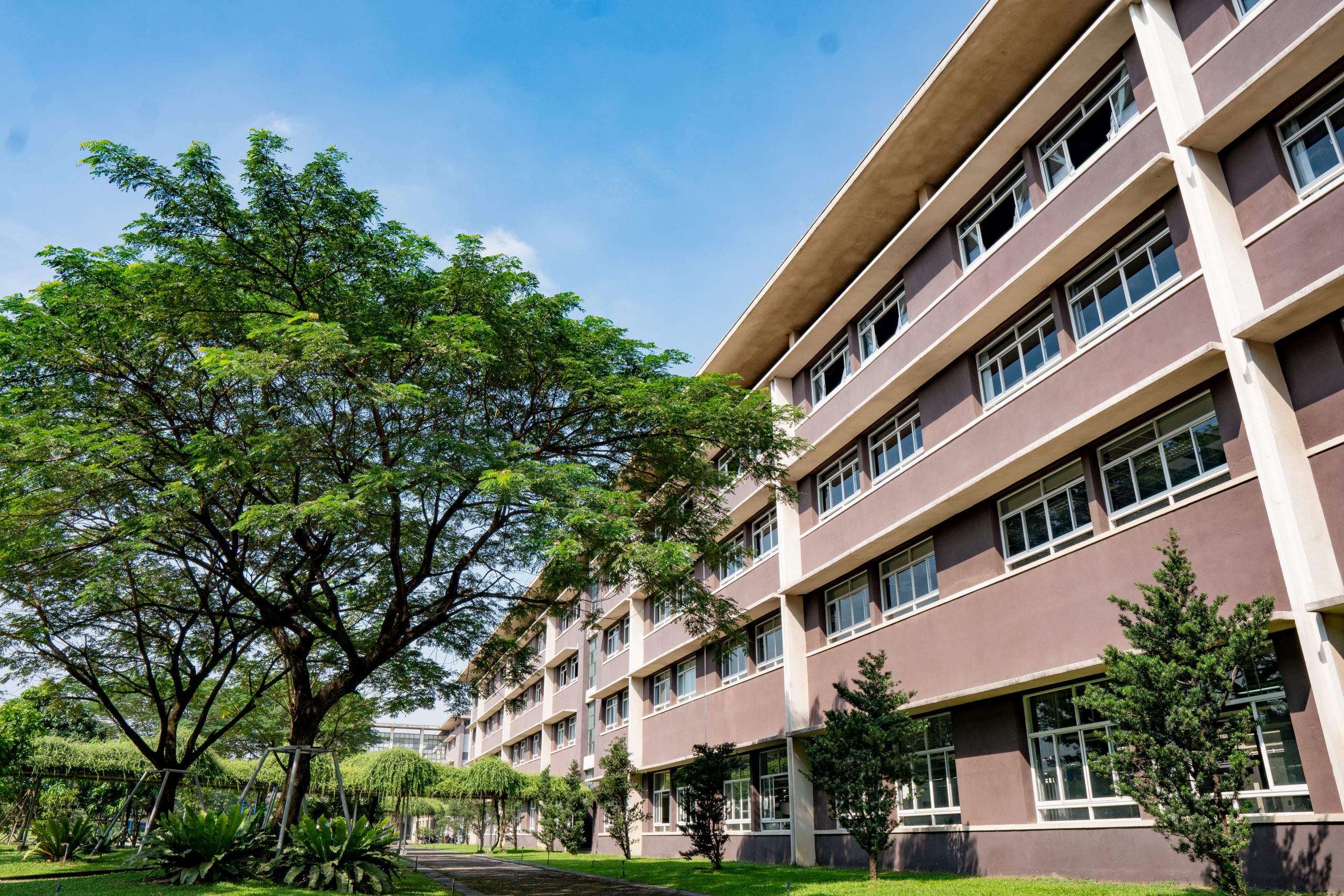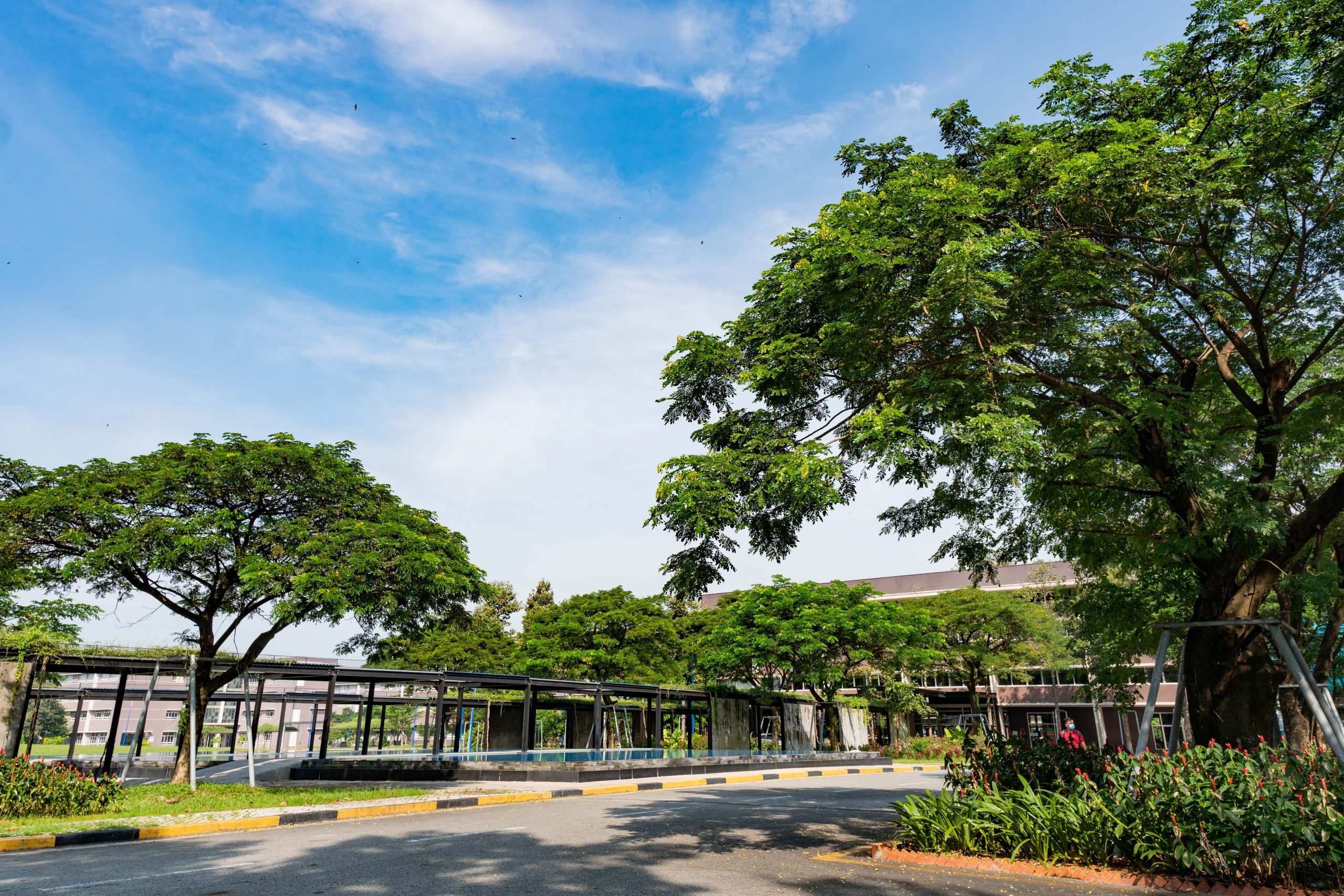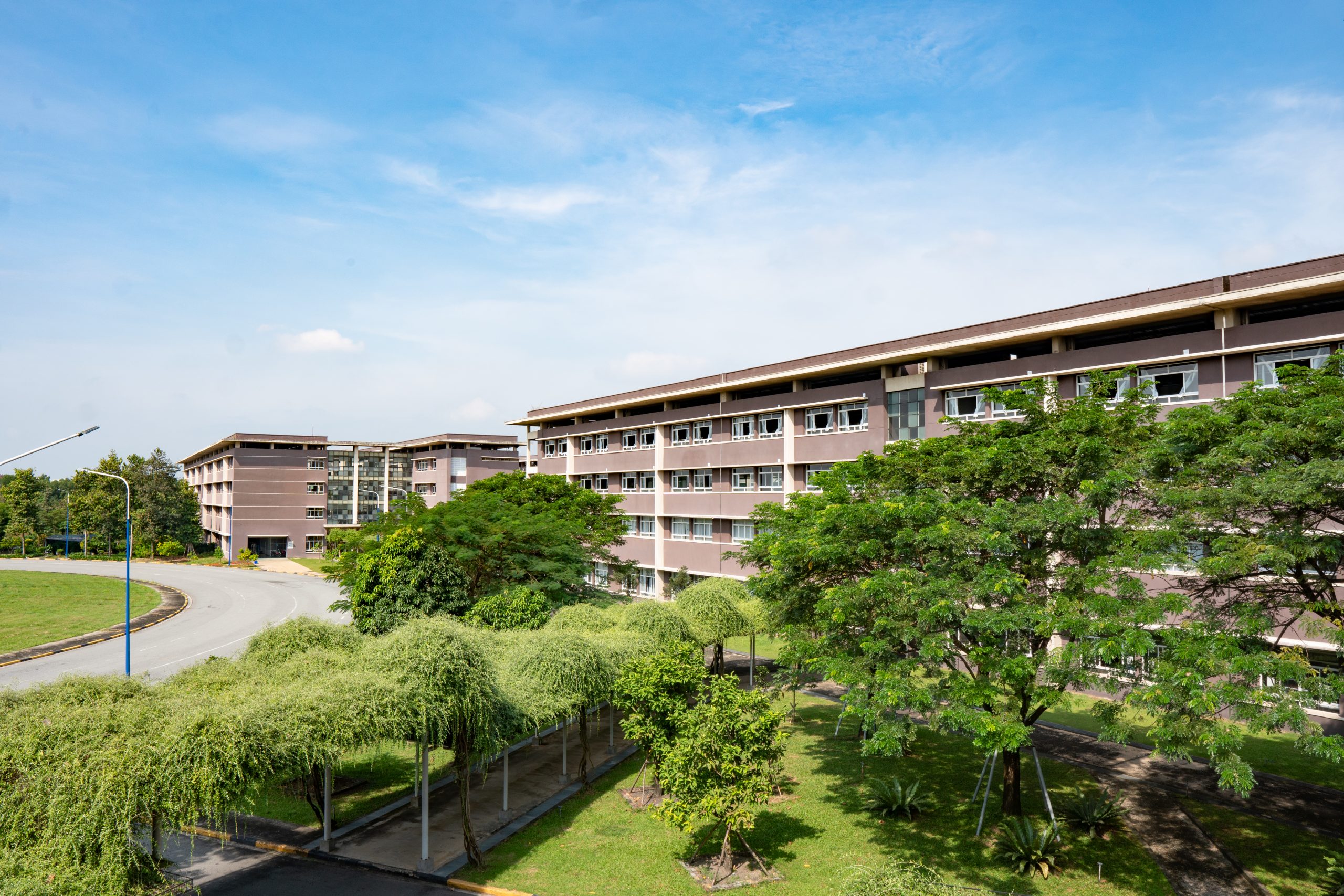 Lecture halls, classrooms
Total floor area: 68,592 m2
Classrooms: 210
Lecture halls and classrooms at EIU are equipped with sound systems, projectors, computers and modern teaching equipment of international standards. Tables and chairs in the classrooms are carefully selected, with foreign experts giving opinions, to create the best learning environment for students.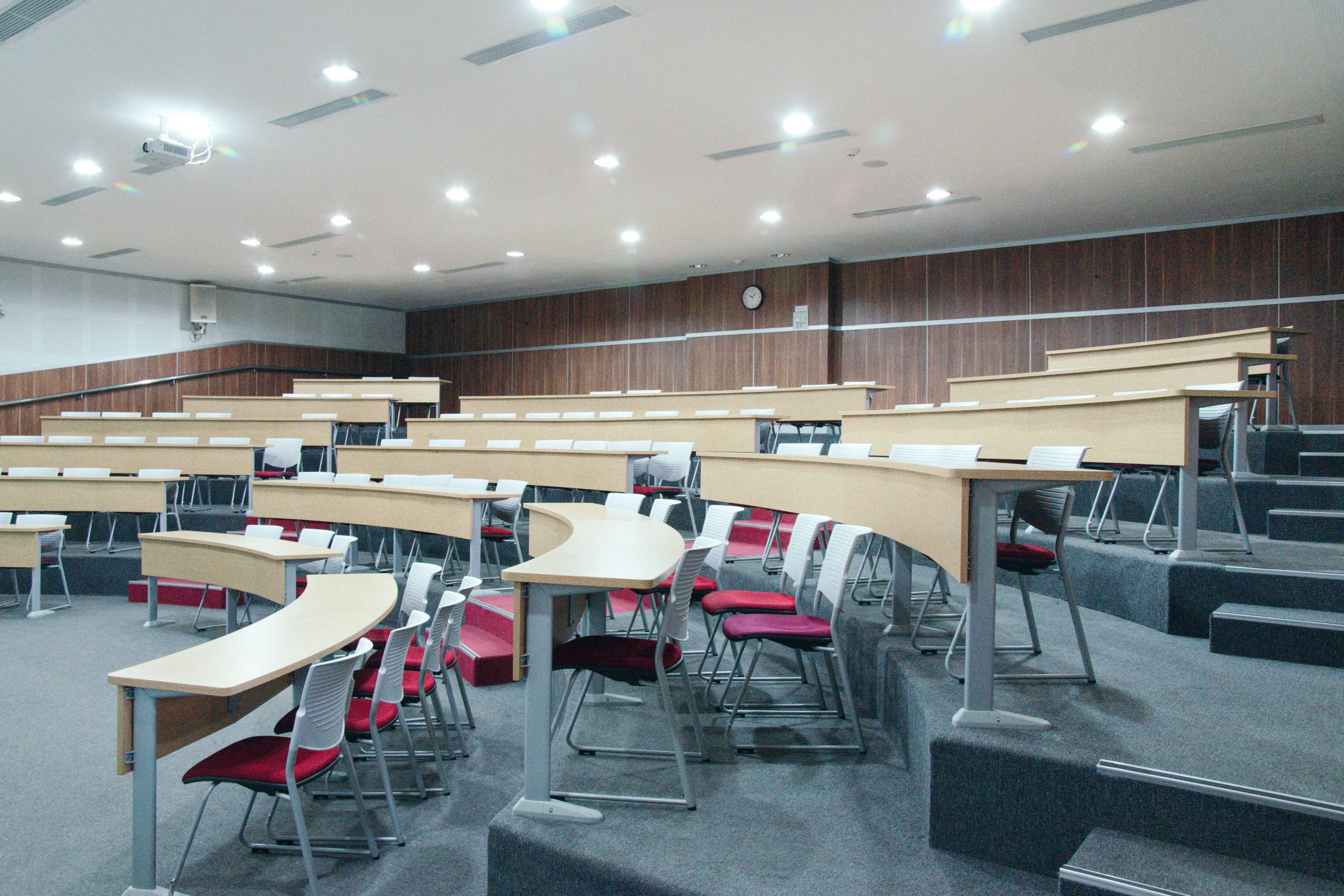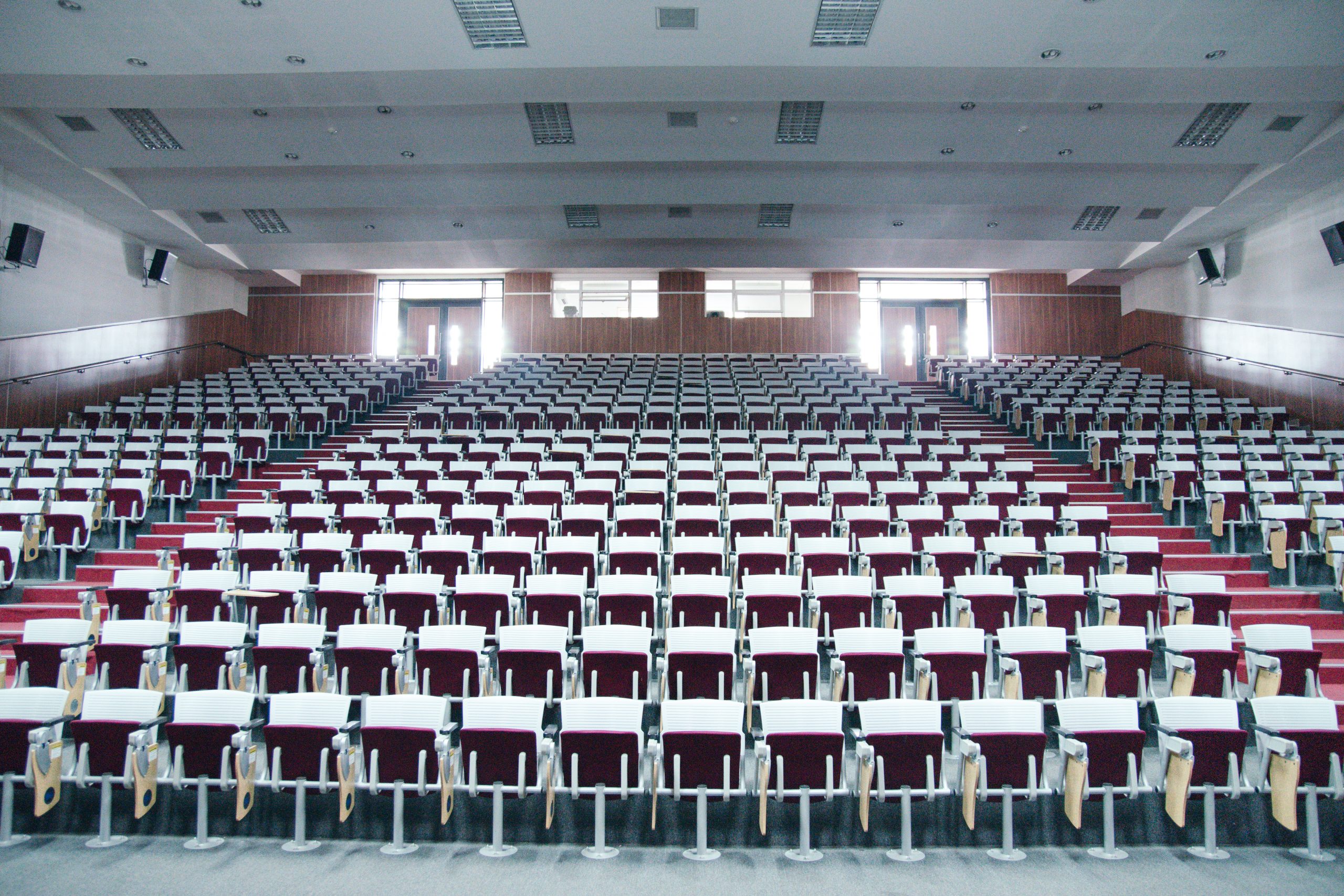 EIU Library
The EIU library is equipped with modern and comfortable facilities, diverse information resources and support services to meet the requirements of high quality study, lecturing and scientific research.
At the library, users will experience the services and utilities of a modern and intelligent library with software applications incorporated with all the library's resources and services. The user interface is friendly and easy to interact on computers and mobile devices.
Highlights:
More than 2500 m2
Spacious 3-storey space, with more than 1,000 seaters for reading and self-studying
1st floor is equipped with more than 40 computers with high speed Wi-Fi connection
Group study rooms and multimedia rooms on 2nd floor
Quiet reading area with print storage on 3rd floor
The library has over 10,000 copies of printed books
Online electronic resources include: 74,000 e-books, 28,000 e-journals; more than 100,000 theses; over 11 million course materials and multimedia materials.
Connected to the electronic library of the main library of Vietnam National University Ho Chi Minh City.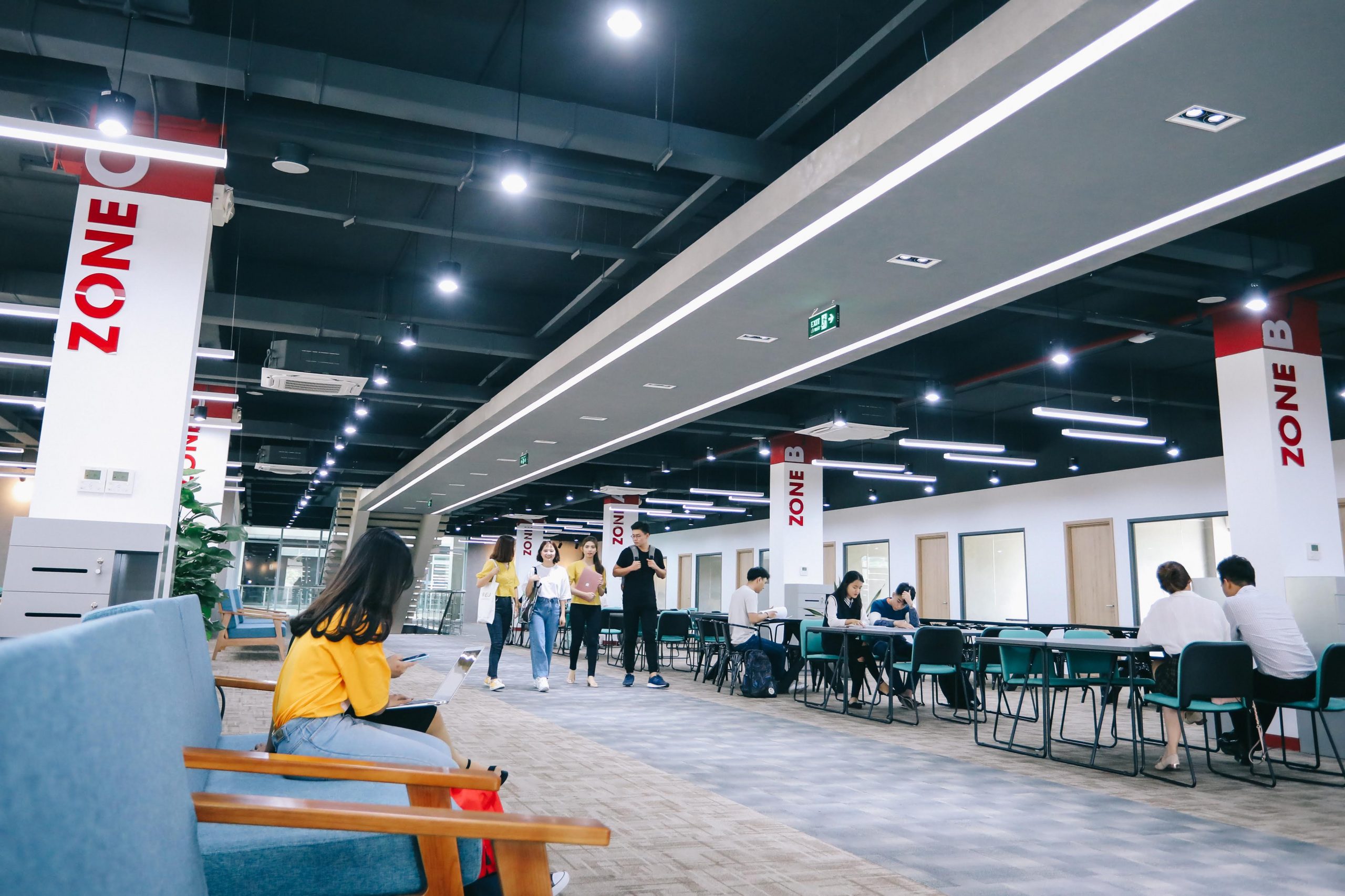 Fablab
The EIU Fabrication Laboratory (EIU Fablab) is a manufacture laboratory that provides the community with the opportunity to access and use equipment and technologies. These ​​800m2 includes the areas of Concept, Design, Implementation, and Operation, along with modern machinery and equipment such as 3D printers, 3D scanners, laser cutters, CNC machines…
EIU Fablab helps users learn, research and implement engineering and technology projects. Users can work and share knowledge through common activities such as studying together, researching together, designing together, creating together, or working together on a startup project. The EIU Fablab brings a new model of learning and research to the community, creating an environment, nurturing and initiating innovations in the community.
Visit https://fablab.eiu.edu.vn to learn more about Fablab.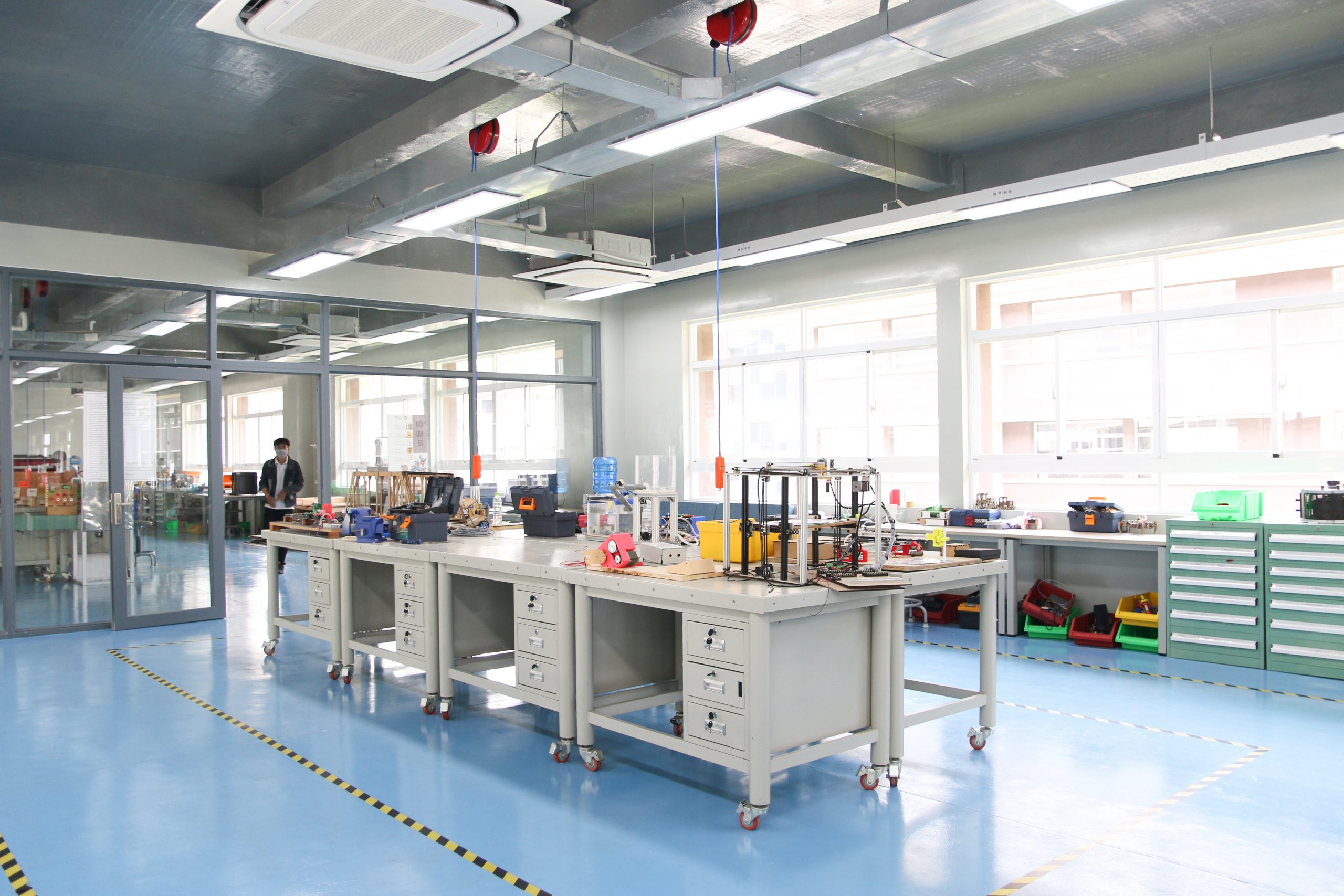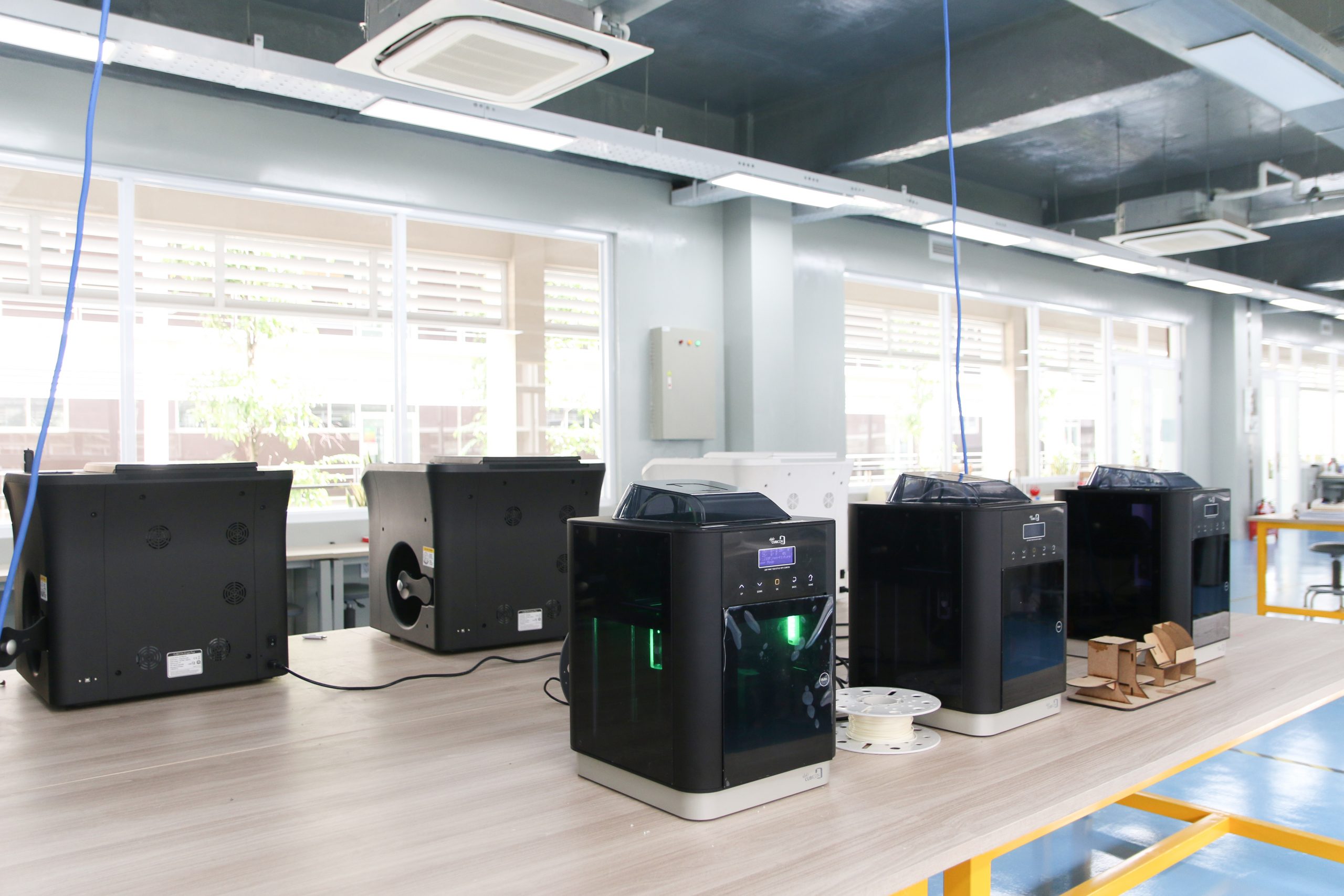 STEM-Lab
STEM stands for Science, Technology, Engineering and Mathematics. In essence, STEM education is understood as equipping learners with the necessary knowledge and skills in science, technology, engineering and mathematics. These knowledge and skills are integrated and complemented to each other to help students understand theory and practice and solve practical problems in daily life. .
The STEM-lab aims to develop logical thinking, self-direction skills, teamwork, critical thinking and problem-solving skills, thus developing skills to carry out and manage projects, and presentation skills. To bring science and technology closer to daily life, the STEM-lab helps foster a passion for science and innovative research activities in the community.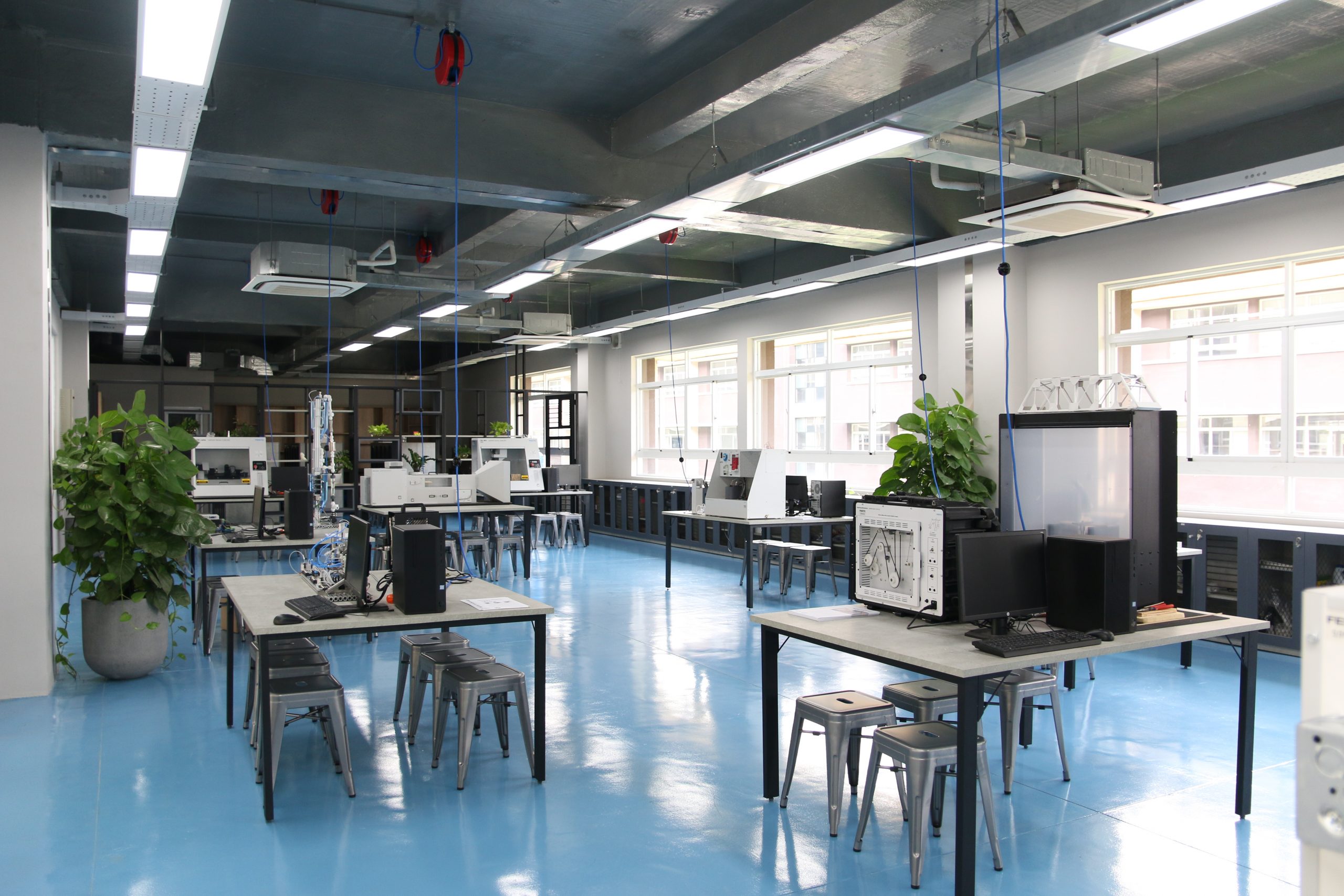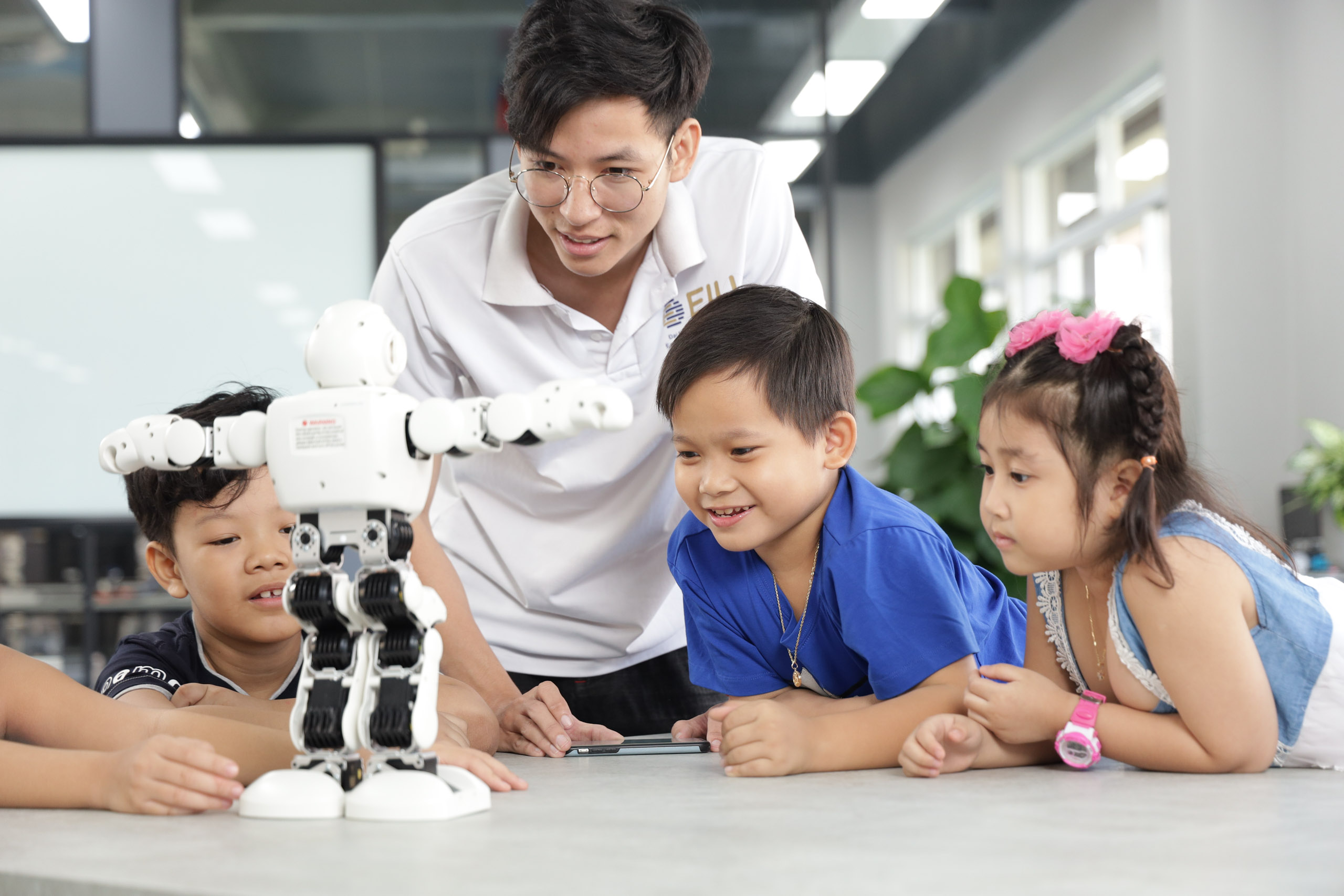 Practice room 4.0
The CP-Factory system (Lab 4.0) serves lecturing, study and research for EIU students and lecturers. This is a global 4.0 technology training system, a new development trend for today. In addition to the task of performing R&D work, teaching work, the facility is also used to train 4.0 technology and production methods for the business community.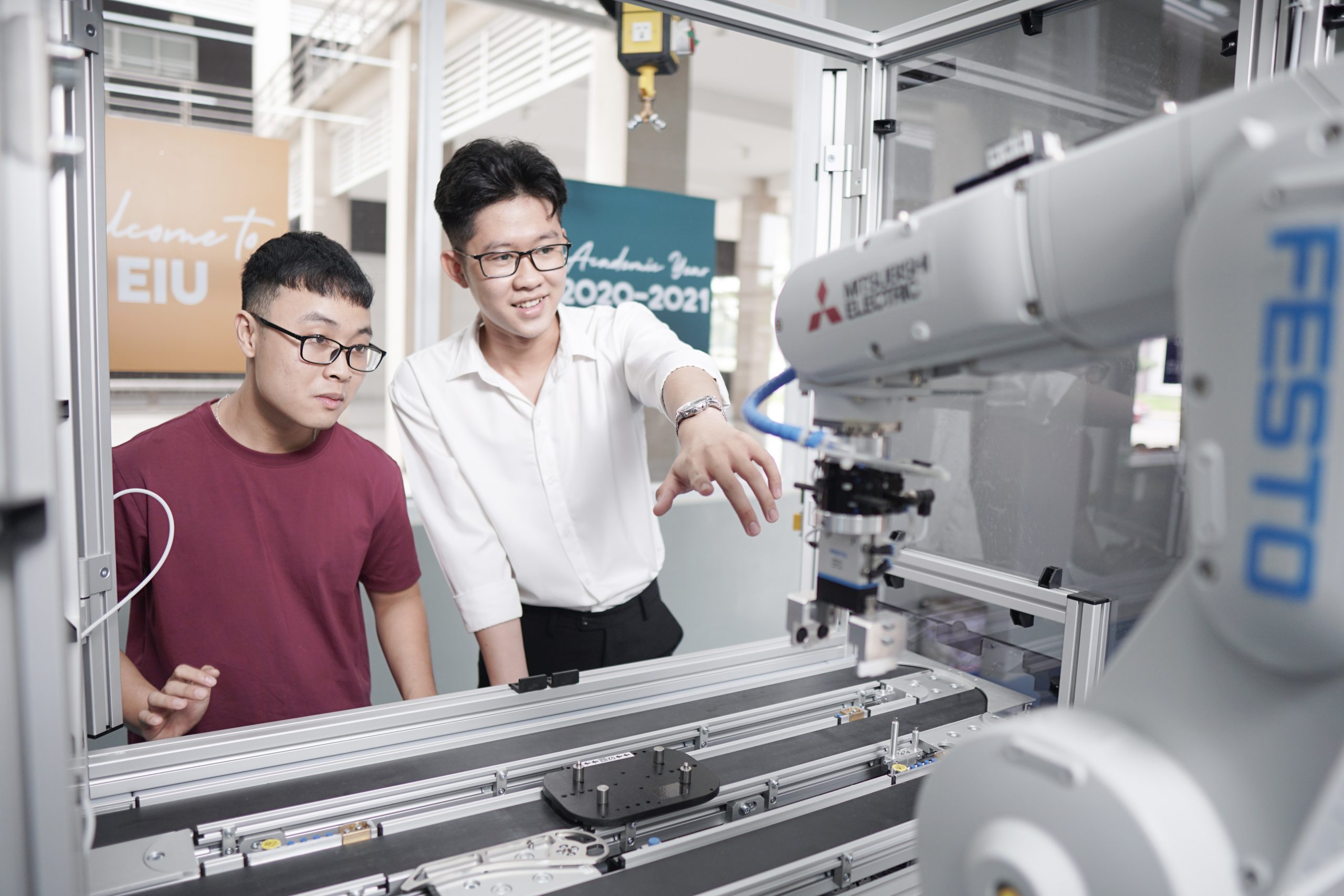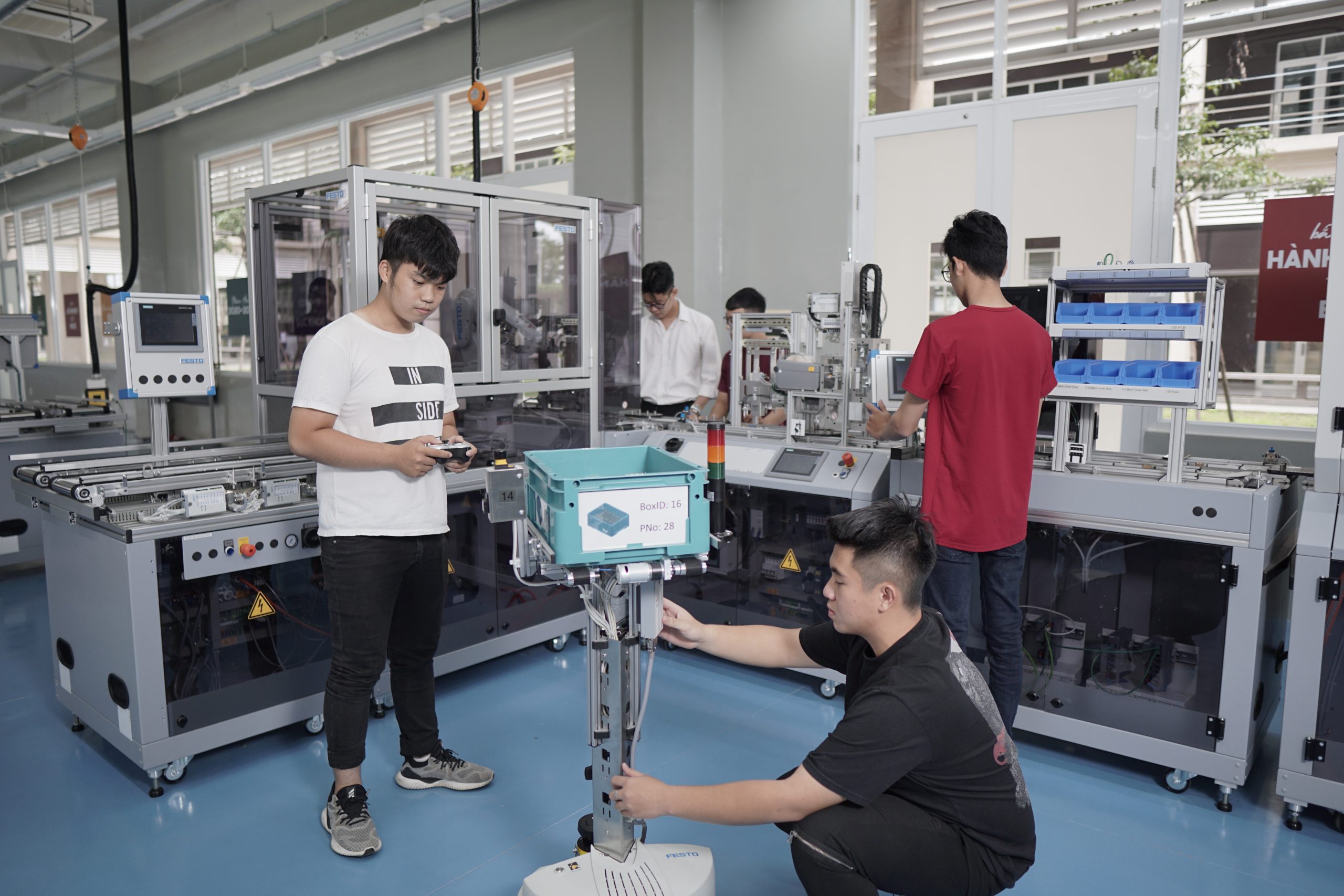 Becamex Business Incubator
Becamex Business Incubator (BBI), as part of EIU, is proud to be the first business incubator in Binh Duong province. The facility has a total area of ​​2000 m2, including 30 offices, exhibition areas, training rooms, modern meeting rooms. BBI is a place to inspire, incubate the spirit of entrepreneurship and comprehensively support startups with a variety of pre-incubation services or business support services. At BBI, all students, individuals and organizations who are incubating start-up ideas can easily receive support. BBI services:
Provides advice to help perfect your business idea
Collaborates with the eiu fablab and other labs to realize and perfect prototypes
Provides modern infrastructure of international standard
Supports in completing business plans
Develops marketing plans, business strategies and product developments
Provides legal support for businesses and helps in registering rights for intellectual property.
Provides better access to investment capital and financial funds
Provides high quality human resources
Organizes training programs on skills and techniques for businesses.
Connects businesses with the policies of binh duong smart city
Organizes activities that serve entrepreneurship
Spreads start-up trends and innovations in the community
Connects businesses with the start-up community
Participates in many diverse activities
Visit https://bbi.eiu.edu.vn to learn more about BBI
At EIU, students can participate in many interesting and valuable experiences. In addition to seminars where they can listen to experts, students are also provided with many internship opportunities at many companies. This is a great opportunity for students to gain more experience and familiarize themselves with the business environment from a very early time.
Students easily integrate into the learning environment at EIU by participating in their favorite clubs. The clubs are places to exchange, connect, share and inspire students. They can also join social activities, bringing joy to themselves and creating happiness for the community, becoming a compassionate, responsible student and a useful citizen.