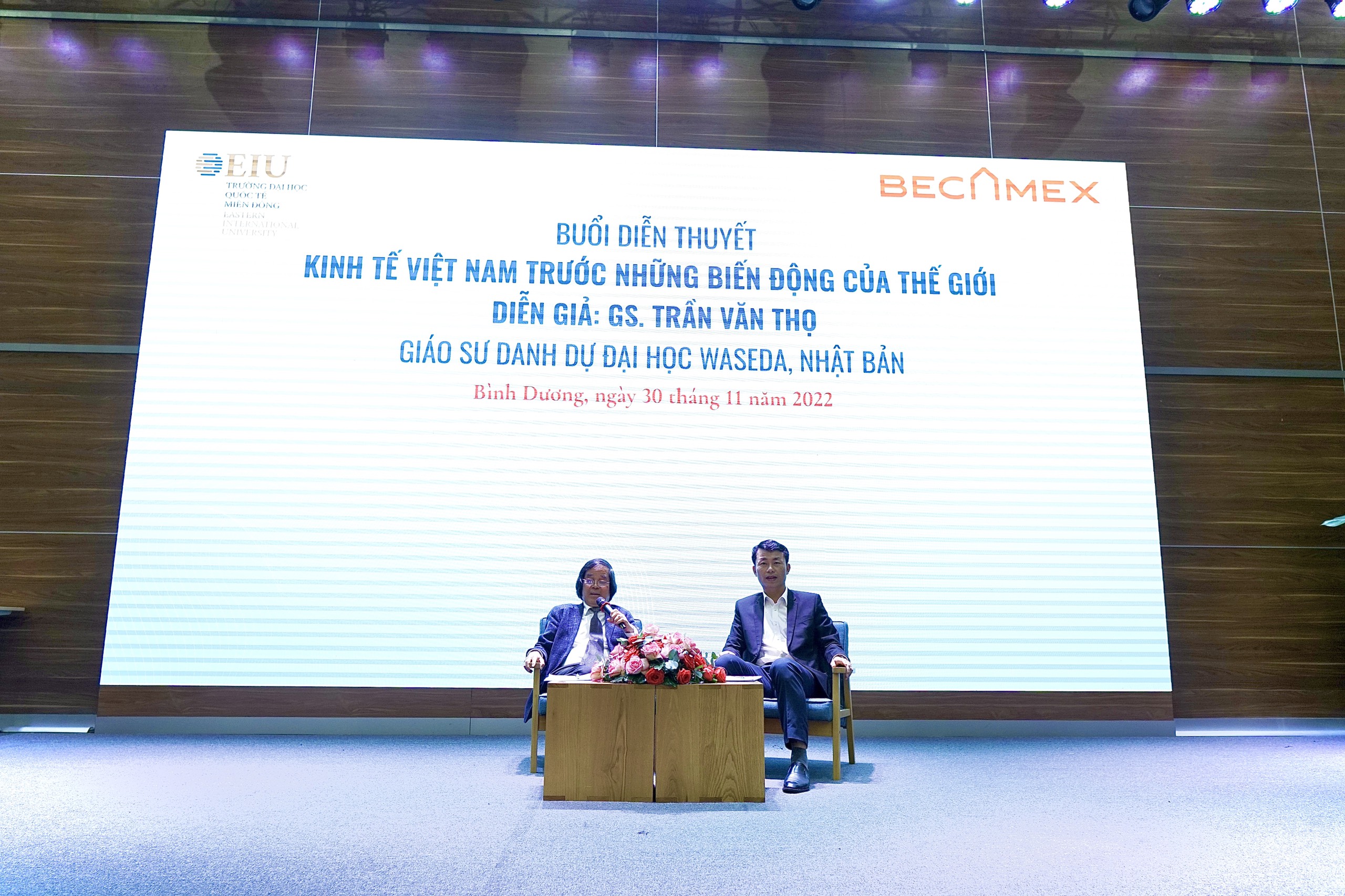 Prof. Tho was in 2018 was awarded the Order of the Sacred Treasure Gold Rays from the Japanese Government, a noble medal awarded to foreign individuals.
He is also an important contributor to the innovation and development process in Vietnam. He was a member of the Economic and Administrative Reform Advisory Board of late Prime Minister Vo Van Kiet (in office: 1993 – 1997) and the Economic Advisory Board of Prime Minister Nguyen Xuan Phuc (2016 – 2021). Professor Tho has published many professional books in different languages. He also regularly writes articles for domestic newspapers and magazines on economic, educational and cultural issues. His latest book published in Vietnam is "Japanese Economy: the 1955 – 1973 Miraculous Development Period" (Best Book Award in 2022).
Speaking at the event, EIU President Dr. Ngo Minh Duc showed his thanks to Prof. Tran Van Tho who has accepted an invitation to visit Binh Duong province in Vietnam and make the presentation.
Dr. Duc said: "Over years, Binh Duong has introduced many measures and focused a lot of resources on the Smart City and Binh Duong region innovation project. In which, EIU is honored to play an important role in the innovation, creativity and scientific and technological development ecosystem of the province. "In the context, understanding socio-economic situations in Vietnam and over the world, opportunities, challenges, movements, and trends across the world is of strategic significance for organizations and companies in Binh Duong.
"With many years of experience in teaching, working and participating in consulting positions for the governments of Vietnam and Japan, Professor Tran Van Tho is bringing an overview of the world. This will help managers, scientists, businesses, lecturers, and students.
Dr. Duc noted: "This is also an opportunity EIU, scholars, and enterprises to learn, discuss, and contribute to providing appropriate solutions and orientations for their sustainable development of themselves.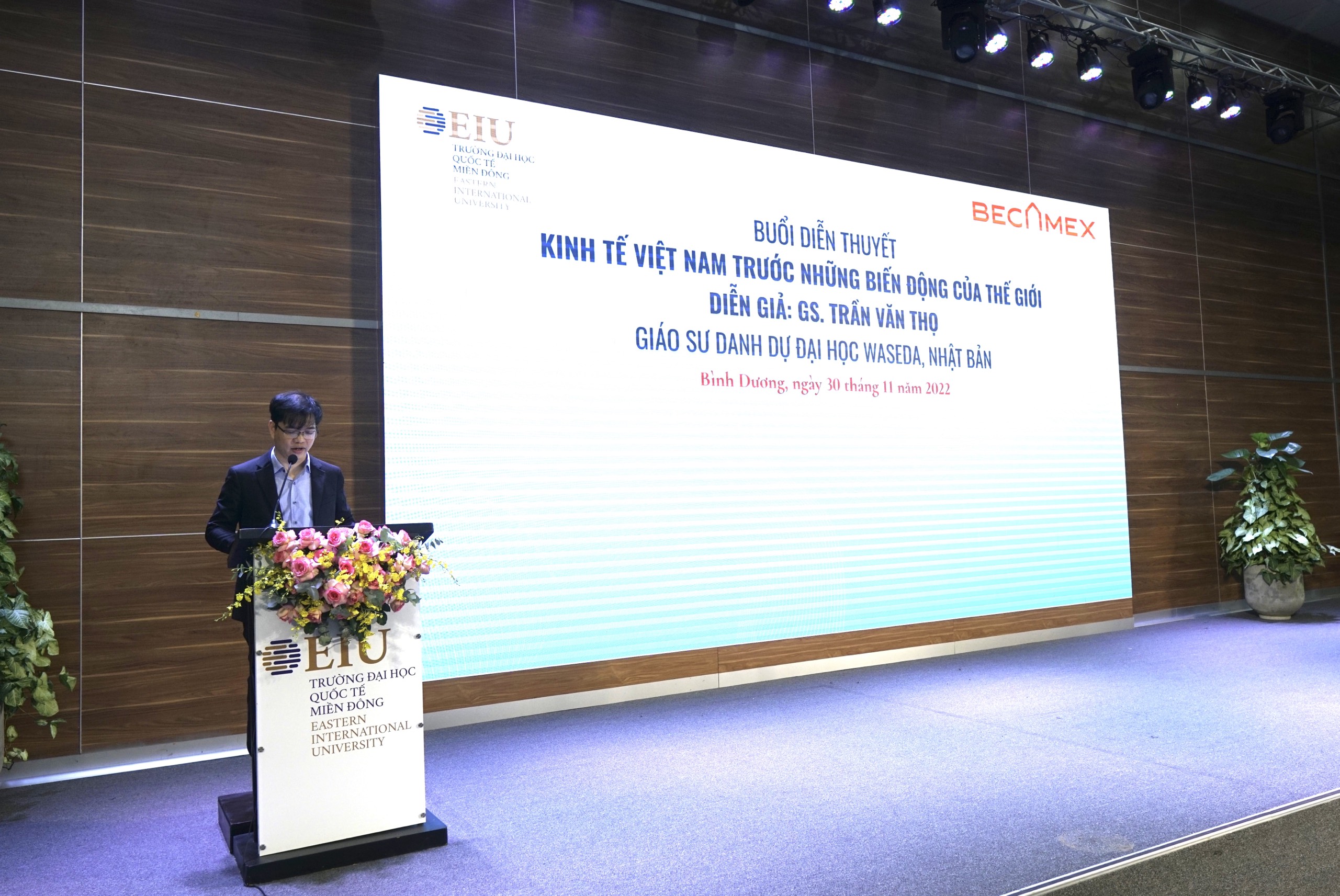 In his presentation, Prof. Tho highlighted changes and new trends in the world affecting the Vietnamese economy, and which strategies and policies Vietnam may follow. He also mentioned vision for Vietnam toward 2045.
The new development trends across the world include information technology, digital development; pandemics; changes in world economic and political relations.
The impacts by the trends include risk of disruption of global supply chains, global value chains; decreased demand for labor, demand for highly skilled workers, laborers must adapt to technical and technological changes, economic security, countries' self-sufficient in essential products (food, health).
Vietnam's counter-measure is to build a solid economy. Medium-term strategy: to focus more on the domestic market.
Long-term strategy includes: Changing growth mindset; Innovation for fast and sustainable growth; escaping the middle income trap.
New approaches because of Covid-19 pandemic: (1) Agriculture, industry and services are developing almost simultaneously. (2) "Moderate concentration" is the new keyword for urbanization (both concentration and distancing). (3) Regression of traditional values ​​on social security.
Vietnam looks forward to 2045 amid global new trends: to build a strong and self-reliant economy via deeply industrialization, building a key food industry, focusing on the health sector, and also by developing domestic enterprises to gradually reduce reliance on FDI, especially FDI from emerging countries.
A breakthrough is the informal sector and SMEs. It is also a premise for innovation. An important and fundamental content of innovation relates to State management and the quality of officials at all levels. Emphasizing self-study ability, ability to re-skill skills. Measures to continuously increase labor productivity, conditions to escape the middle income trap.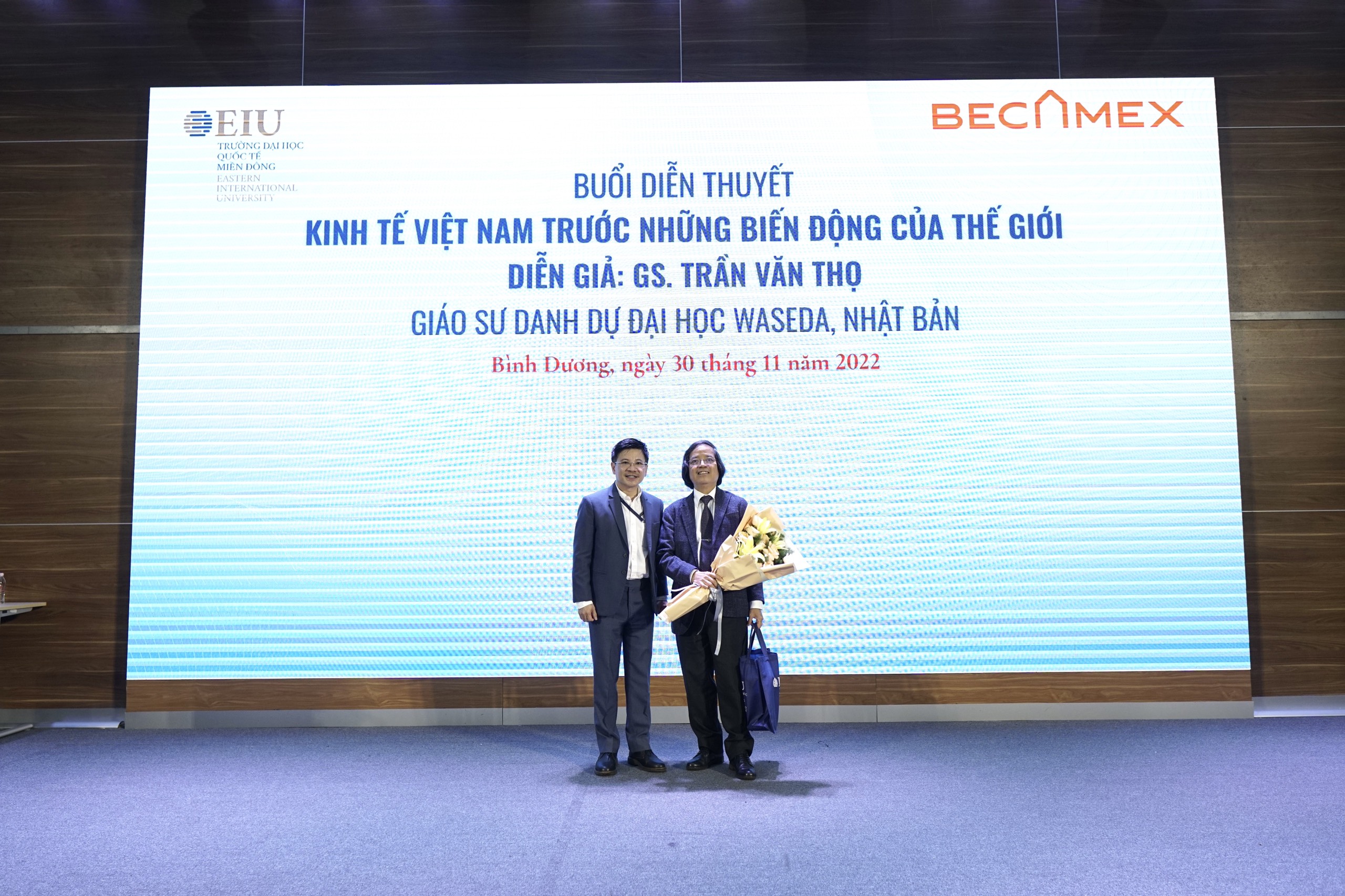 EIU hosted the lecture by Professor Tran Van Tho to promote academic activities and scientific research of EIU, while expanding its network of cooperation, especially with Vietnamese scientists with high reputation who are working at domestic and foreign universities.
This is also an opportunity for EIU students to meet and interact with a professor of economics, a great intellectual with a noble heart who always looks towards Vietnam, an opportunity for students to learn, and develop skills and good qualities.