Mr. Nguyen Van Loi, Party Chief of Binh Duong province, paid a working trip to the Eastern International University (EIU) on February 22. He required EIU to be an innovation center of Binh Duong, to work with businesses to train engineers for Industry 4.0.
His delegation, led by him, who is a member of the Party Central Committee of Vietnam, and chief of the Binh Duong National Assembly Delegation, also includes Mr. Nguyen Loc Ha – Member of the Standing Committee of the Provincial Party Committee, Vice Chairman of the Provincial People's Committee; leaders of the Office of the Provincial Party Committee and the Office of the Provincial People's Committee; Heads of units in Binh Duong province.
Welcoming Mr. Loi's delegation were Mr. Nguyen Van Hung – Chairman of the Board of Directors of Becamex IDC Corporation; members of the board, the EIU Council and EIU management.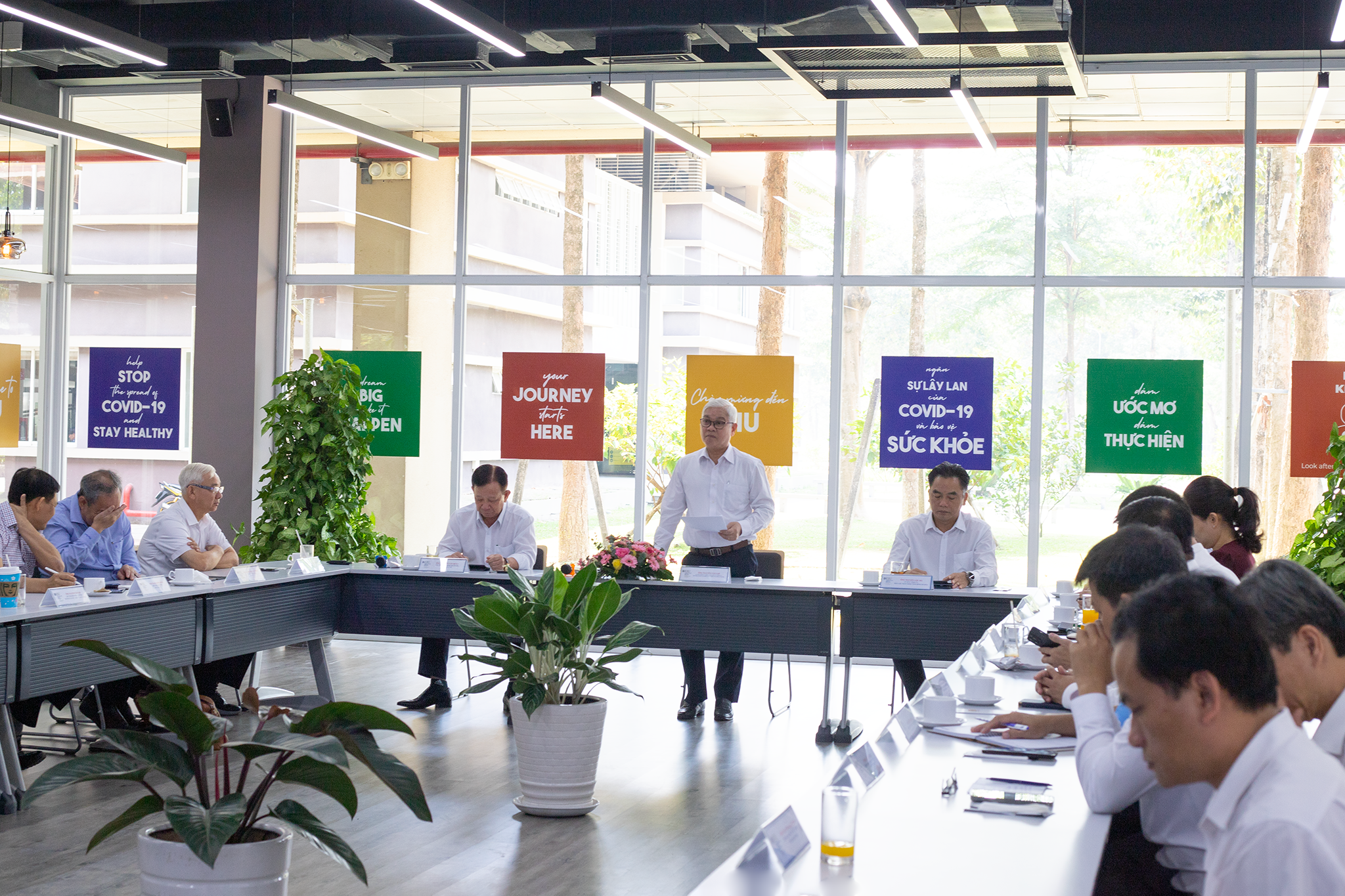 Mr. Nguyen Van Loi – Secretary of Binh Duong Provincial Party Committee delivered a speech at the meeting with EIU
EIU is a pioneer in building an innovation and start-up ecosystem
EIU President Dr. Ngo Minh Duc presented to the delegation a report on EIU's performance in recent years.
The report highlighted the university's outstanding performances in providing high-quality human resources to meet the needs during the 4th Industrial Revolution, needs of innovation to improve labor productivity for enterprises in Binh Duong. It can be said that Becamex Corporation in general and EIU in particular are the pioneers in building an innovation and modern startup ecosystem to serve Industry 4.0 transformation. EIU is an Becamex arm to perfect the Becamex ecosystem.
In the long-term development strategy, EIU has specific solutions, such as forming a secondary ecosystem right in the university, including closely related units such as Fablab Manufacturing Experiment Center, Becamex Business Incubator, Aspire Company…to contribute to promoting, attracting and supporting the startup community in Binh Duong through many specific activities.
In particular, the Industry 4.0 Innovation Center serves to support the transformation of labor-intensive production models into knowledge-intensive and automation of production. By this way, it supports the development and promotion of added value for the province and surrounding areas.
In addition Becamex IDC and EIU have so far built an Advanced Manufacturing Center (AMC), which plays an important role in providing diverse machining solutions, supporting design calculations and measurement, quality assurance.
These are very important steps, affirming the perfection of the creative ecosystem at EIU, contributing to the training and provision of high-quality human resources to meet the development needs of enterprises, while attracting high-quality human resources to Binh Duong; promoting innovation, supporting start-ups; transferring knowledge and technology to create new values, contributing to the socio-economic development of the province.
Founded by Becamex, EIU is focusing on training human resources in necessary fields to serve the province such as Business Administration, Engineering, Information Technology, Nursing.
In all operations, EIU always focuses on promoting quality assurance activities, scientific research, and signed cooperation agreements with many partners from developed countries such as the US, Singapore, Korea, and Japan.… and connecting with more than 280 domestic and foreign enterprises for teaching and learning activities.
Thanks to this, 100% of EIU graduates achieve IELTS a minimum 6.0; 91% of graduates get a job after graduation. More than 50% of graduates work for a foreign companies and they are highly appreciated for their professional knowledge, ability to use English and their dynamic, creative personality and ability to adapt quickly to their working environments.
In the future, to serve the development of the business community and Binh Duong province, EIU plans to open new majors like Economics, Electronics and Telecommunications, Science and Technology, Computer Science, especially Health Sciences.
After the EIU President delivered the report, Mr. Loi, Binh Duong Party Chief, emphasized that EIU must catch up with the trend of digital transformation to promote in its role as one of side in the Government-Academy-Enterprise combination to continue build up Binh Duong Smart City. EIU must continuing to be a non-profit university serving the community, training high-quality human resources for the province, continuing to provide more scholarships to attract talents.
Mr. Loi suggested EIU should be a center of innovation, work with businesses to train engineers to serve Industry 4.0, cooperate with other schools to train in such majors as medicine: in the coming years EIU must shape the medical training model.
He said EIU should collaborate with schools in the province to soon deploy bilingual programs at the schools, improve English skills for teachers; by 2025, select some bilingual schools, followed by more bilingual schools.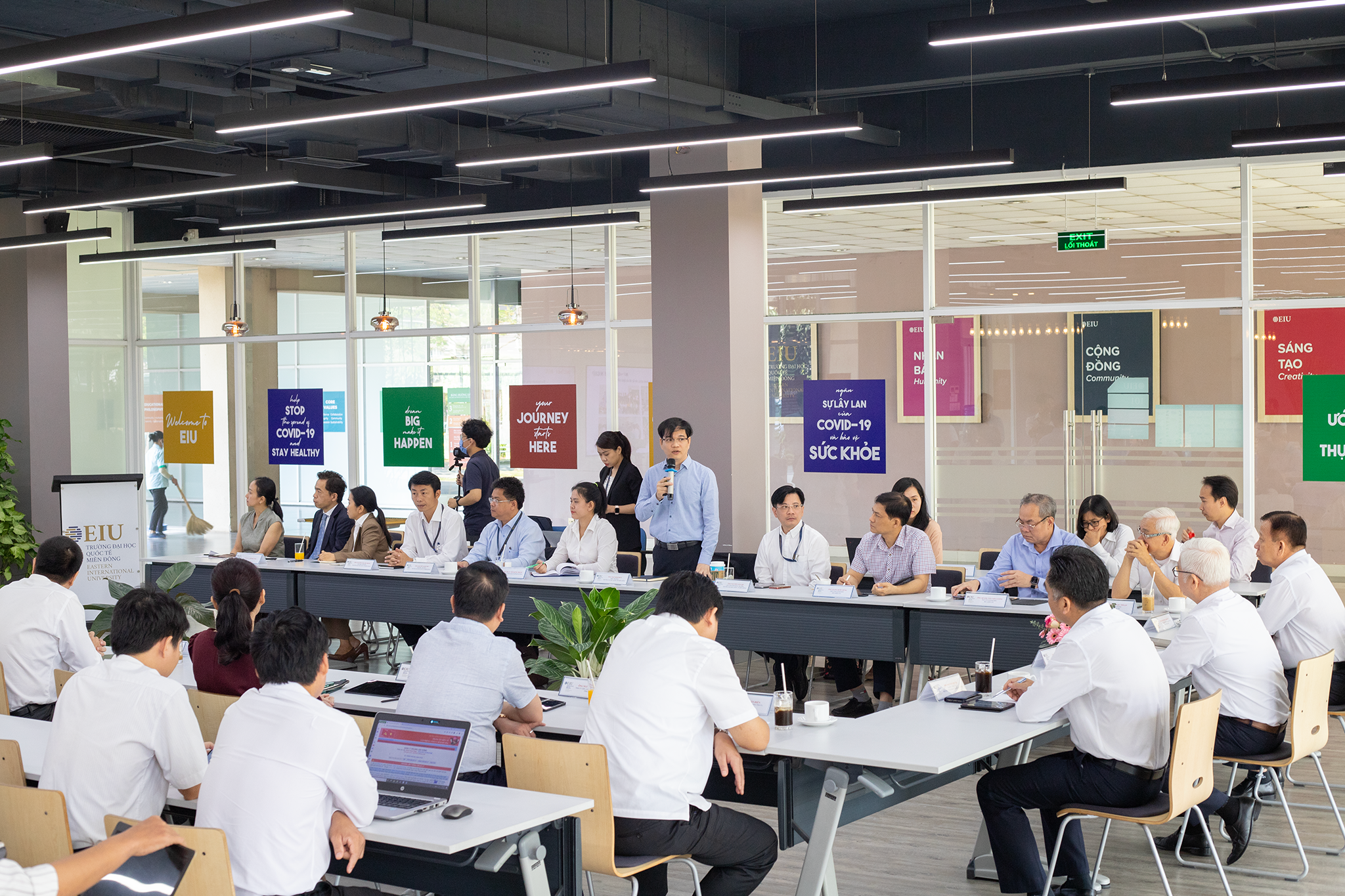 Dr. Ngo Minh Duc – EIU President reported on the results of EIU's activities over the past time
Becamex begins transformation to catch up with trends
The Binh Duong Smart City Project was launched born in 2016 with many different definitions. However, with the original definition, the project came into being with the simple goal of creating new added values for Binh Duong. In particular, the key point is training human resources of different levels. Since then, it is expected to make Binh Duong a province with a broader innovation ecosystem, creating a foundation for building an attractive investment environment, gradually becoming a smart production area, less labor intensive, creating high-value goods and a healthy living environment.
In the context of global headwinds, there are still many difficult challenges, but the potential and development opportunities of Binh Duong are great. Therefore more efforts are required in creating many breakthrough ecosystems in the coming time.
Labor productivity has to date increased but still cannot meet the requirements. An urgent task is to train people so that no one is left behind, everyone can have a job and creates a higher values to support Binh Duong's sustainable development.
Speaking at the meeting with the provincial Party leader, Mr. Nguyen Van Hung, Becamex Chairman said that after many years of developing industrial parks and learning experiences from South Korea, the Netherlands, other countries, Becamex and EIU have realized their responsibility, which is creating development, training high quality human resources. In the first period, Becamex has learned a lot from Singapore.
Mr. Hung said Becamex, in order to catch up with new trends, is entering the second phase. The new phase includes 7 important ecosystems, namely:
Ecosystem 1: Taking EIU as the focus to build many small ecosystems that blend together between universities, thereby clarifying the role of EIU in the Government-Academy-Enterprise combination
Ecosystem 2; World Trade Center in New Binh Duong City creates favorable conditions for domestic and foreign businesses to exchange, meet, share and exchange raw materials, fuel, goods, equipment
Ecosystem 3: Smart and Ecological Industrial Parks
Ecosystem 4: Becamex R&D Institute
Ecosystem 5: New Binh Duong City
Ecosystem 6: Culture – Education – Sports Complex
Ecosystem 7: Science and Technology Industrial Park.
Over the past time, Binh Duong has built a good innovation foundation for the development of the next periods. The "Innovation Center 4.0" was established in Binh Duong by the cooperation between Vietnamese partners (including Becamex IDC Corporation under the People's Committee of Binh Duong province, VSIP joint venture, Eastern International University) and Singapore Polytechnic and the Industry Transformation 4.0 Alliance.
The center will have laboratories, machinery and equipment available to help innovators and businesses without investment, and will to help manufacturing businesses improve their of existing machines and production lines to increase management efficiency and increase labor productivity, creating more values.
It can be said that building and developing a sustainable, high-efficiency innovation startup ecosystem and creating added values is a long journey. But with this strong desire, high determination and great effort, Binh Duong promises to truly become a fertile land of innovation for good seeds to germinate and grow up on a regional and global scale.
Concluding the meeting, the provincial Party leader, Mr. Loi, highly appreciated the achievements and the development orientations of Becamex IDC and EIU. He said Binh Duong's administration will support useful proposals from Becamex and EIU for further innovation and creation.
Source: Tạp chí điện tử Kiểm sát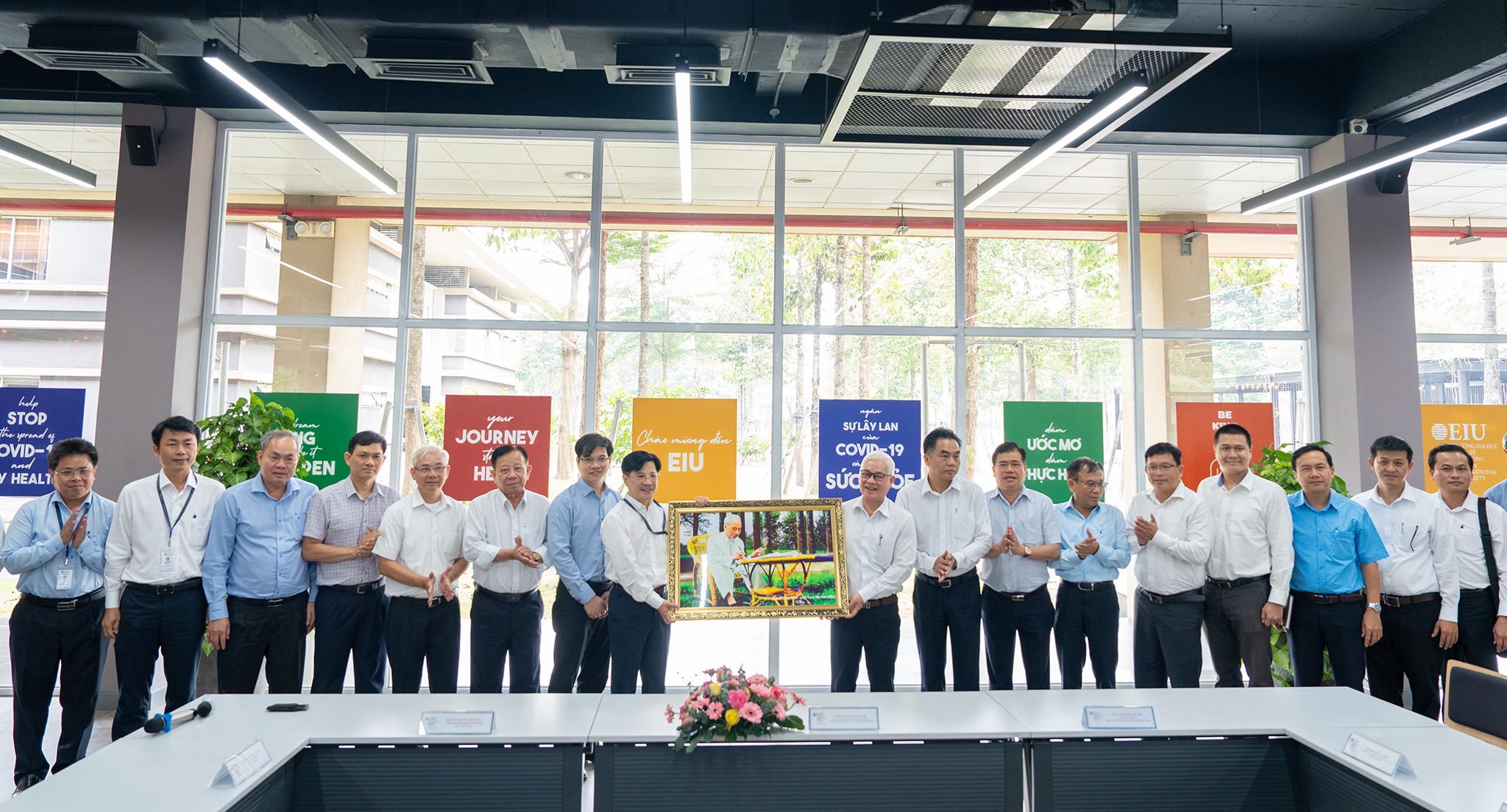 Secretary of Binh Duong Provincial Party Committee – Mr. Nguyen Van Loi presents souvenir to EIU Leaders