Eastern International University (EIU) formally held the 2022 Commencement Ceremony for new bachelors and engineers from its Becamex Business School, School of Engineering, School of Computing and Information Technology, and School of Nursing on August 27.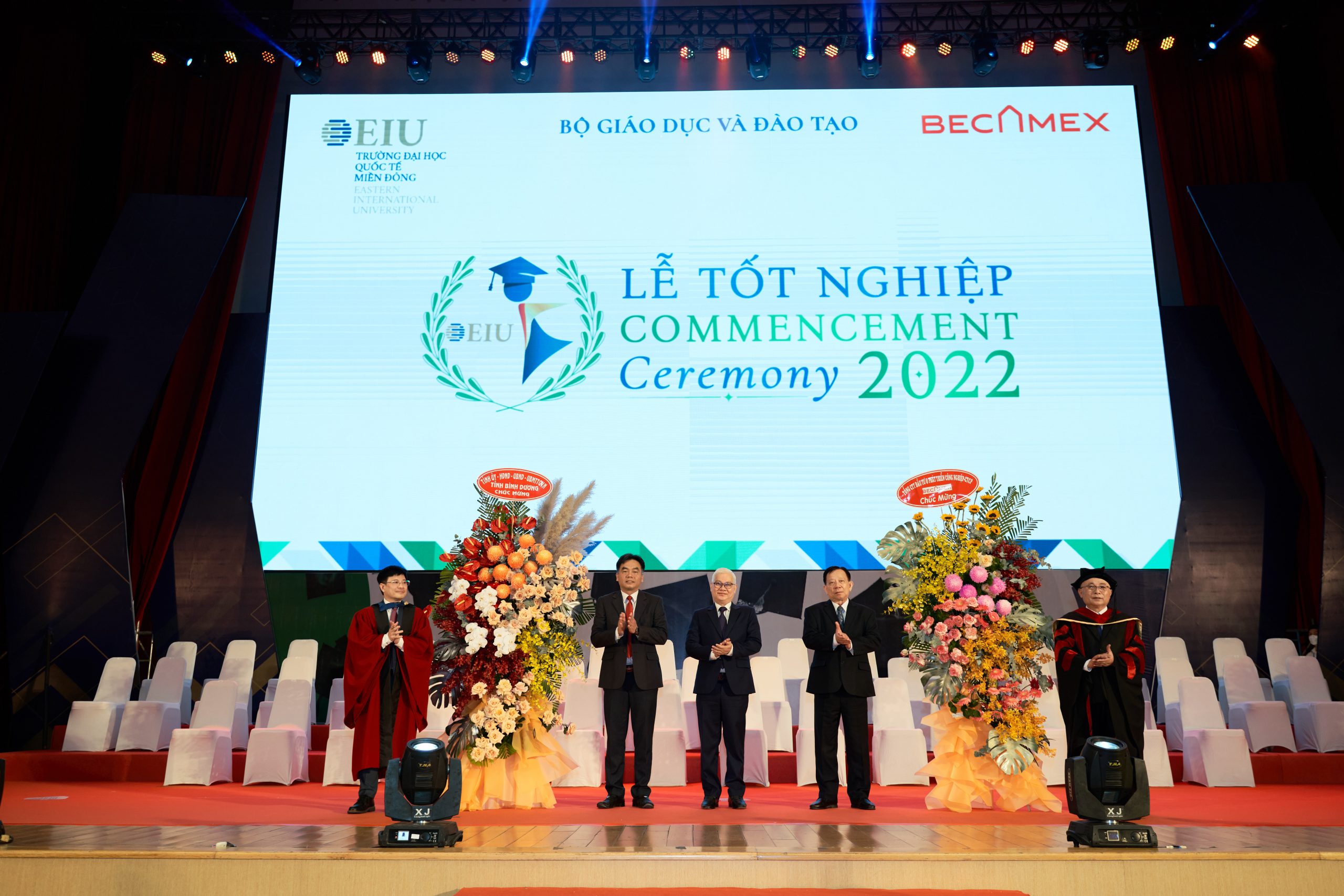 Among the VIPs at the significant event at the Binh Duong Convention and Exhibition Center were Mr. Nguyen Van Loi, Party Central Committee member, Binh Duong province's Party chief, head of the province's National Assembly delegation; Mr. Nguyen Loc Ha, standing member of the Provincial Party Committee, Vice Chairman of the provincial People's Committee; Mr. Nguyen Van Hung, Becamex IDC Chairman; Mr. Dang Minh Hung, former Vice Chairman of the provincial People's Committee, EIU Honorary President; Mr. Nguyen Tan Loi, Chairman of the Council of Eastern International University; Dr. Nguyen Van Phuc, EIU President; and Dr. Cao Van Chong, Deputy Director, Binh Duong's Department of Culture, Sports and Tourism.
Other participants included provincial authorities, Becamex executives, EIU's corporate partners, representatives from domestic and foreign companies, and provincial high schools. Addressing the ceremony, Mr. Nguyen Loc Ha said Becamex's establishment of EIU is in line with the province's top priorities, with education, science and technology among them. Given a modern training environment and advanced curricula, EIU has established and fortified its prestige, brand, and culture of innovation as part of a startup ecosystem for students. He highly appreciated the university's efforts and contributions to date, which have made substantial contributions to providing high-quality human resources for the province's sustainable development. He said he hoped EIU will continue to improve its training quality, open new majors based on market needs, especially for supporting the Binh Duong Smart City and Innovation Zone project. The province's Vice Chairman told the new bachelors and engineers, as well as EIU students, that they need to constantly improve knowledge, skills, and other aspects to become global citizens.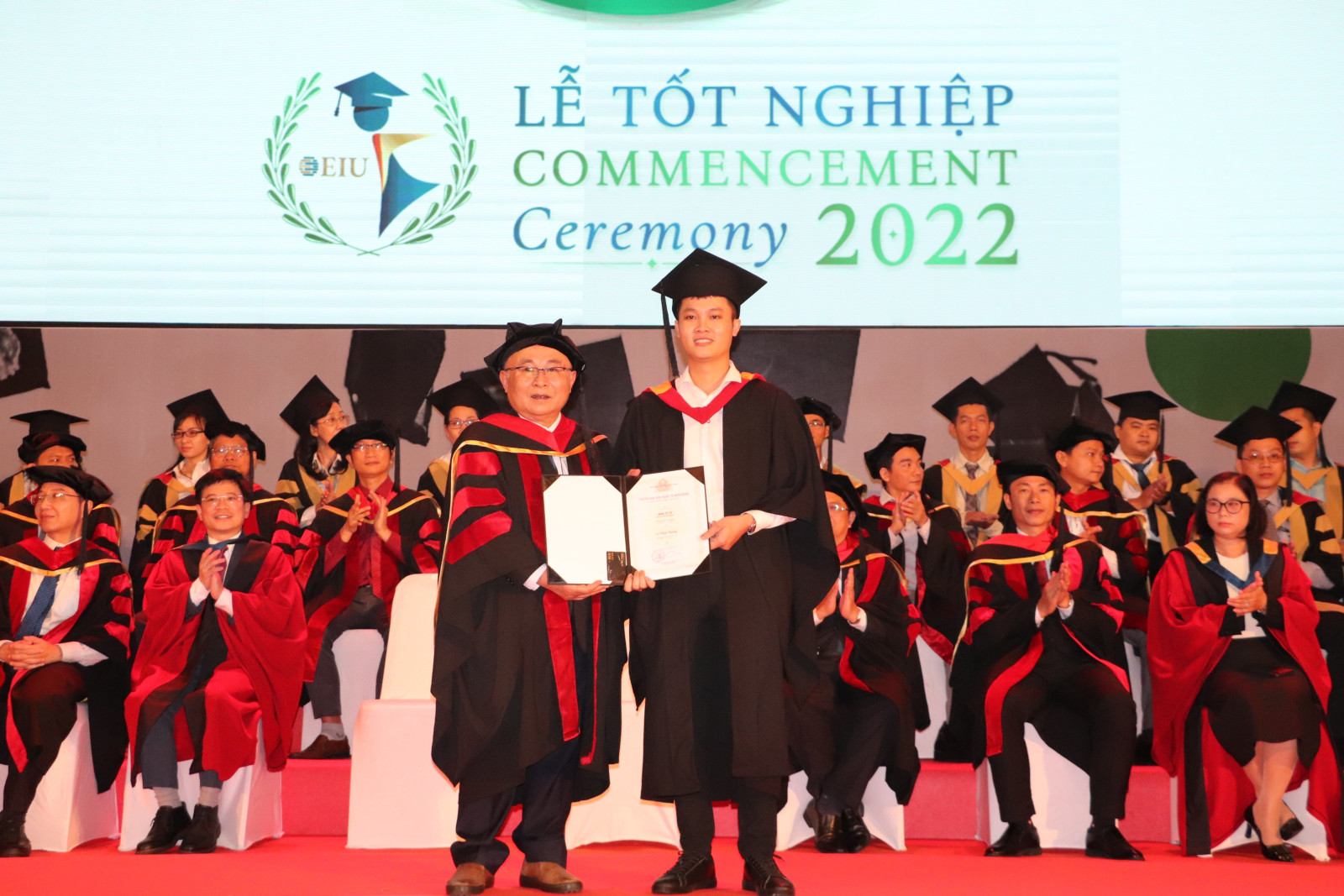 Becamex IDC is the EIU founder, also the key investor along with two other companies namely Vietnam Singapore Industrial Park Co. Ltd. and TDC. EIU started operations in 2011 as a university under a corporation's roof.
In addition to performing the general tasks of a university prescribed by the Ministry of Education and Training, EIU is an important unit to carry out Becamex's goals and strategies in each development period. Especially, it has played a pivotal role in the Binh Duong Smart City and Innovation Zone scheme, in which high-quality human resources, innovation culture, application of science and technology and the fourth Industrial Revolution are the foundations.
Based on this, EIU has actively built a smart university environment associated with the Industrial Revolution, contributing to attracting human resources and promoting innovation activities. With people and knowledge as the core to build a smart university, EIU focuses on training high-quality human resources with innovative thinking and capable of mastering science and technology, applying the knowledge economy's achievements in study, research and practical work. EIU focuses on building a learning environment, system of laboratories and practice rooms equipped with modern machinery and equipment, with technologies regularly updated with popular development trends. The ecosystem includes Industry 4.0 laboratories, Becamex Startup and Advanced Manufacturing Center, Fablabs, STEM Education Center, EIU Smart Library, all to serve learning and research needs of students, faculties and outside communities. EIU students improve their practical skills at the laboratories, with practice time accounting for 40% of their total study times). They also have lots of opportunities to take part in projects with their faculties and businesses throughout the study process. Specifically, EIU has partnership ties with 157 other units for students to join them as interns. EIU offers many scientific research cooperation activities, and has signed 58 MoUs with partners in the United States, Singapore, France, Finland, the Netherlands, Thailand, Slovenia, Myanmar, South Korea and India. EIU is cooperating with Nanyang Polytechnique to implement projects with enterprises in Binh Duong province with the participation of lecturers and students from Nanyang Polytechnique and EIU. Regarding English, all EIU graduates have an IELTS score of 6.0 or higher to prove their competence in today's 4th Industrial Revolution era.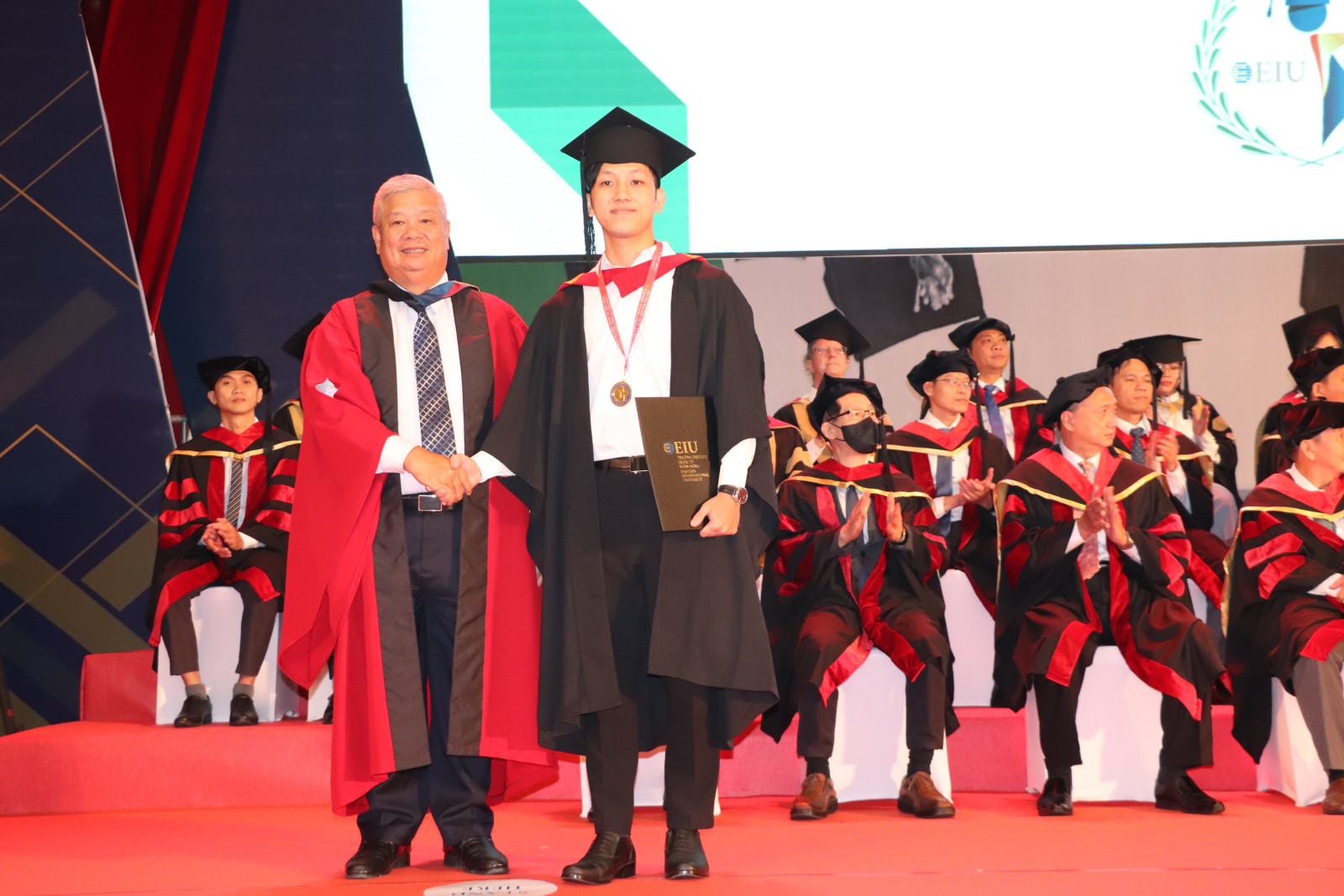 Over the past years, the ratios of EIU graduates having found a job have been high, and they have received good words from their employers in terms of knowledge, skills, working attitude as well as English fluency. Quite a lot EIU graduates hold high positions in organizations and businesses. The percentage of students who found a job in three months from graduation in 2020 was 98%, and 87% in 2021. The results demonstrate EIU's quality. EIU will continue its contributions to the society, given the fact that its graduates are really elite generations, The institution is strongly developing elements in its smart university system to keep training high-quality human resources, create new knowledge, transfer technology, contribute to sustainable socio-economic development in Binh Duong province as well as Vietnam's Southern Key Economic Zone.